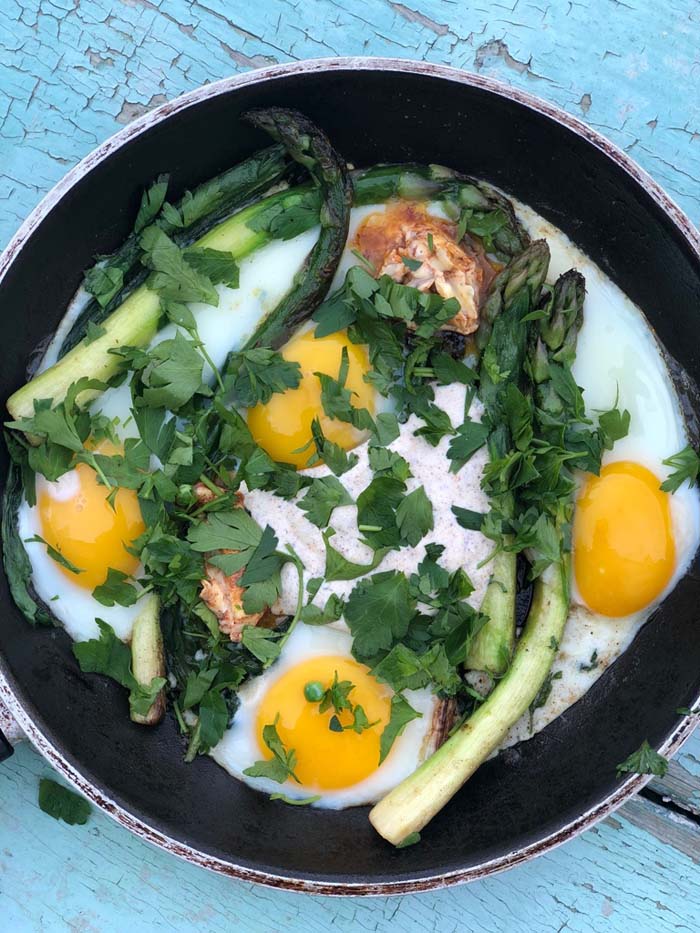 it's asparagus season again! and those who grow their asparagus themselves know that it starts slowly. this means that the first harvests of the season are not always enough for the big asparagus feast. the better, if there are also recipes where you can manage with only a few asparagus spears, like this one.
even better, if the season starts right away with a bang. i think the collection of asparagus recipes is the biggest section of this blog. it means, i think nothing can surprise us anymore. nothing we haven't tasted yet. and yet, this shakshuka version has a surprise in store.
an old more famous one is there – the egg. but the bear's garlic gives a delicious spice and the paprika butter and the yogurt with sumac give the special kick.
absolutely recommendable! delicious and super fast on the table. found at little ferraro kitchen.
for 2:
10 bears garlic
5 green asparagus
bunch of parsley
4 eggs
1 tbsp butter
oil
herbed yoghurt:
1/2 cup greek yoghurt
1/2 tsp sumac
zest and juice of 1/2 lemon
1/2 tsp smoked paprika
salt and pepper
olive oil
spiced butter:
3 tbsp butter
1/2 tsp smoked paprika
start with the herbed yoghurt and mix all the ingredients. set aside.
for the paprika butter, mix the smoked paprika and butter and set aside.
wash the bears garlic and remove stalks. wash the asparagus and peel the lower parts.
heat the butter in a large frying pan and add the oil. add asparagus und bears garlic, cook for 3 minutes until the bears garlic begins to melt. add the parsley and toss gently.
make some wells for the eggs and crack one egg in each well. cook until the white is set but the yolk still liquid.
top with yoghurt and butter and enjoy with some piece of white bread.

*********************
für 2:
10 blätter bärlauch
5 stangen grüner spargel
bund petersilie
4 eier
1 tl butter
öl
joghurt:
1/2 tasse griechischen joghurt
1/2 tl sumac
schale und saft 1/2 zitrone
1/2 tl geräucherte paprika
salz und pfeffer
olivenöl
paprikabutter:
3 el butter
1/2 tl geräucherte paprika
als erstes die zutaten für den joghurt mischen und dann zur seite stellen.
den bärlauch waschen und die steile entfernen. vom spargel die enden abschneiden und schälen.
butter und öl in eine pfanne geben und erhitzen. dann den spargel und den bärlauch dazu geben und drei minuten anbraten. wenn der bärlauch zusammenfällt die petersilie dazugeben und gut mischen.
für die eier jeweils etwas platz in der pfanne machen und dann jeweils ein ei hineinschlagen. das eiweiß sollte fest und das eigelb noch flüssig sein.
joghurt und paprikabutter darüber geben und servieren. frisches helles landbrot passt gut dazu.