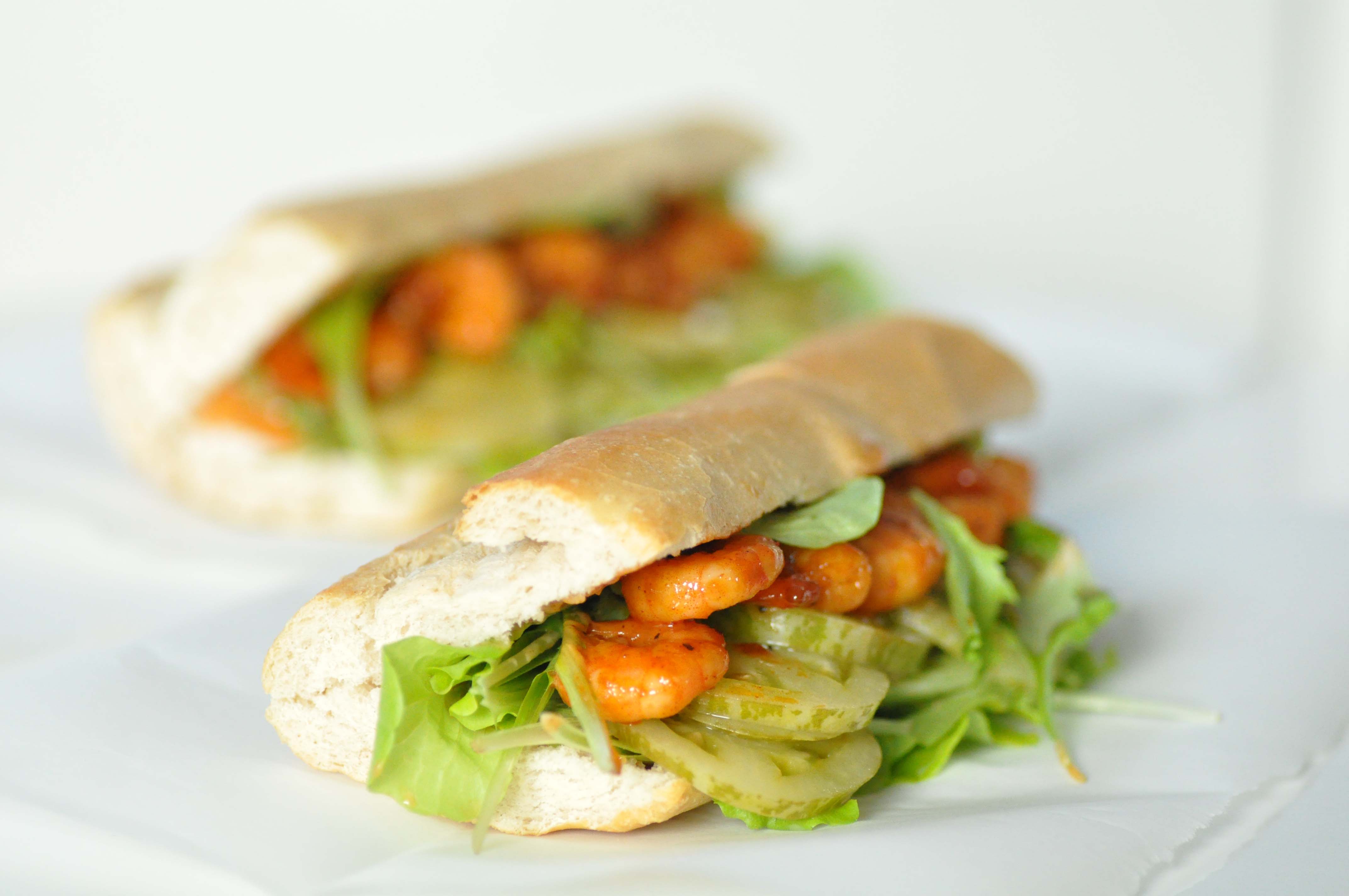 autumn is not only pumpkin season, but it is also the season for green tomatoes. so if you still have tomatoes, that didn't turn red yet, do not worry, eat them! as we already had  fried green tomatoes and the green fried tomato po'boy, we tried something new.
this time the green tomatoes are not fried but pickled and combined with some yummy shrimps. gorgeous!
the idea to this sandwich is again inspired by southern living and i am already curious trying out some more of this fancy southern stuff.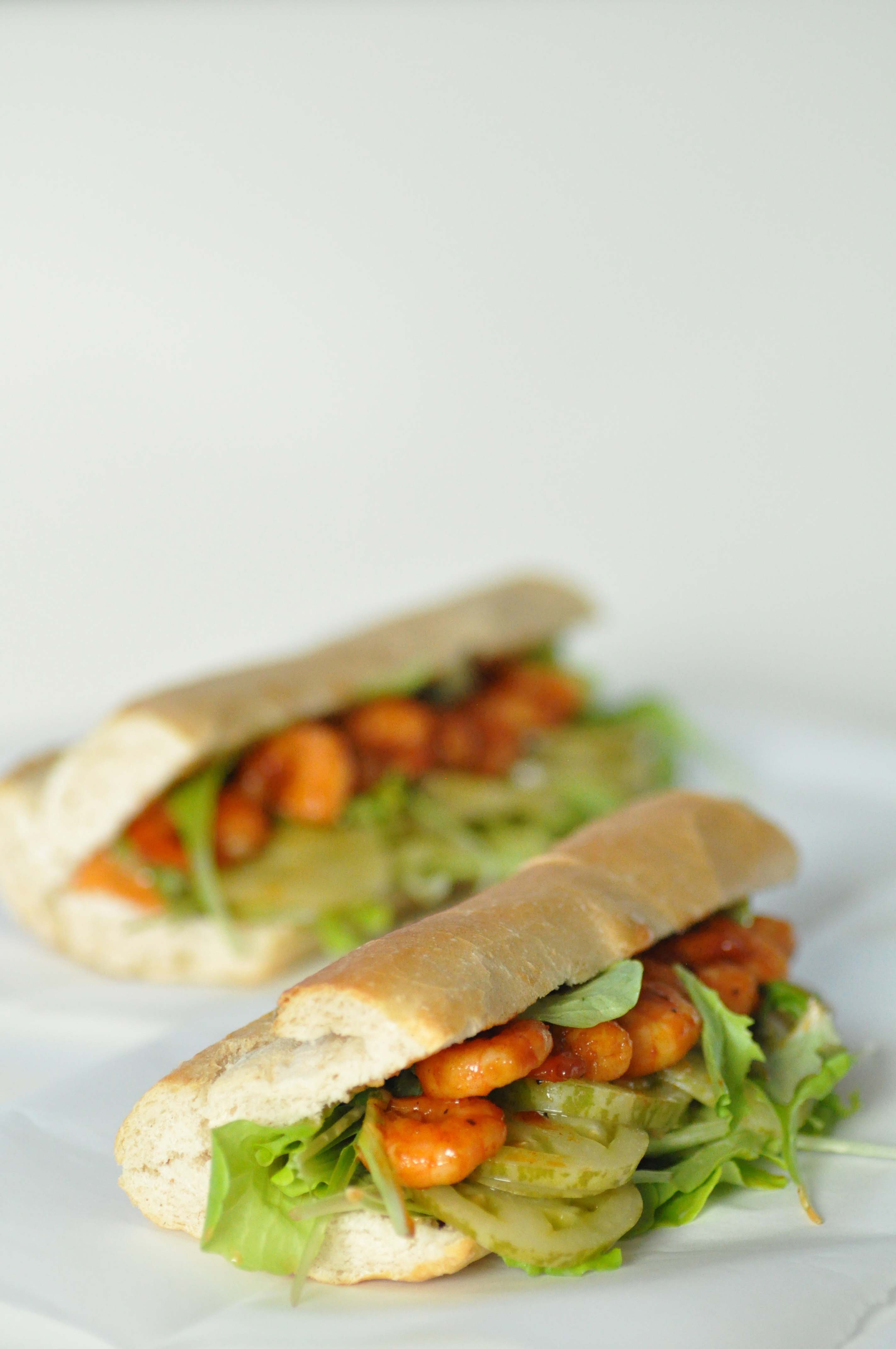 pickled green tomatoes:
1 cup white wine vinegar
2 tsp pickling spices
1 tbsp sugar
1 tsp salt
2 green tomatoes
creole bbq-sauce:
1 tsp garlic powder
1/2 tsp onion powder
1/2 tsp dried thyme
1/2 tsp dried oregano
1/2 tsp spanish paprika
pinch of black pepper
pinch of white pepper
pinch of ground red pepper
1/2 tsp salt
1 small onion grated
1 garlic clove, minced
2 tbsp lime juice
2 tsp worcestershire sauce
6 tbsp melted butter
6 tbsp mayonnaise
2 handful peeled shrimp
2 baguette
lettuce leaves
bring vinegar, pickling spices, sugar and salt to a boil. strain and pour over the finely sliced tomatoes. chill for at least one hour.
combine all the ingredients for the creole bbq sauce. combine 3 tbsp of the bbq sauce with 6 tbsp mayonnaise. combine the remaining bbq sauce with the peeled shrimp. allow to chill for 30 minutes.
heat the grill or a frying pan over medium heat. brush the surface with some oil and grill the shrimp for 2 minutes each side.
cut the baguette in two or three pieces. slice in halves and toast them if you like. spread bbq-mayonnaise mixture on each side. assemble with lettuce, pickled tomatoes, shrimp and extra mayonnaise.
and enjoy!
********************
eingelegte grüne tomaten:
1 tasse weißweinessig
2 tl gewürzgurken-gewürze
1 el zucker
1 tl salz
2 grüne tomaten
kreolische bbq-sauce:
1 tl knoblauchpulver
1/2 tl zwiebelpulver
1/2 tl getrockneten thymian
1/2 tl getrockneten oregano
1/2 tl scharfen paprika
1 prise schwarzen pfeffer
1 prise weißen pfeffer
1 prise gemahlenen roten pfeffer
1/2 tl salz
1 kleine zwiebel, gerieben
1 knoblauchzehe, gehackt
2 el limettensaft
2 tl worcestershire sauce
6 el geschmplzene butter
6 el mayonnaise
2 handvoll gepellte garnelen
2 baguette
salatblätter
essig, gewürzgurken-gewürz, zucker und salz zum kochen bringen. durch ein sieb über die in sehr dünne scheinen geschnittenen grünen tomaten gießen. eine stunde ziehen lassen.
alle zutaten für die kreolische bbq-sauce miteinander mischen. 3 esslöffel von der bbq-sauce mit 6 esslöffeln mayonnaise mischen. die übrige bbq-sauce mit den geschälten garnelen mischen und eine halbe stunde marinieren lassen.
den grill oder eine pfanne bei mittlerer hitze erwärmen. die oberfläche mit etwas öl einstreichen, die garnelen aus der marinade nehmen und von jeder seite für 2 minuten grillen.
das baguette in zwei oder drei stücke schneiden und halbieren. nach geschmack die hälften toasten. jede seite mit bbq-mayonnaise bestreichen und mit salatblättern, eingelegten grünen tomaten, garnelen und ein wenig extra mayonnaise belegen.
und guten appetit!