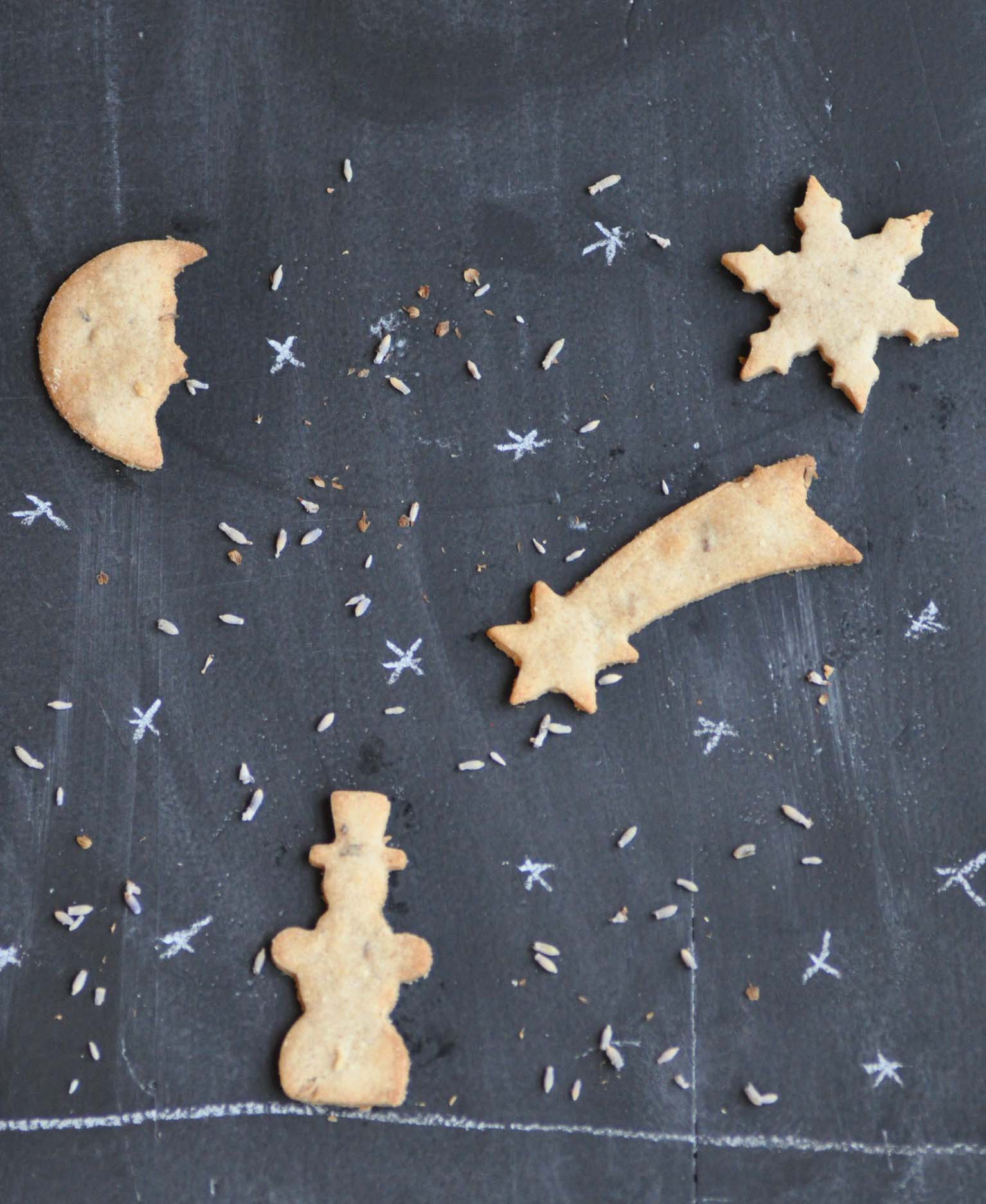 it's the first sunday of advent which means it is also time to start baking cookies. and if you  resist eating them all at once, you also have your first christmas presents.
so enjoy this first advent with the first candle light, cookies, tea or mulled wine and the first christmas music … even though it feels a little bit strange, as i am not really in the christmas mood yet. but it is dark and cold outside, so the christmas mood will come by itself.
we baked the first cookies today and as they are really delicious i am curious if there will be some left for christmas presents. but as they are not complicated at all, we might bake them one more time. it is a simple dough, spiced up by some dried lavender.
the recipe for the lavender cookies is out of a small austrian christmas cookie book we received for christmas last year: das kleine keksbuch. as the dough was a little bit dry i added two tablespoons of water and i reduced the baking time to five minutes.
120 g butter
60 g sugar
180 g spelt flour
2 tbsp dried lavender
2 tbsp water
combine all the ingredients until it forms a compact ball. wrap it into cling foil and allow to rest in the fridge for halve an hour.
preheat your oven to 190°C.
roll out the dough on a well floured surface and cut out your cookies. place them on a baking tray, lined out with baking paper and bake for 5 minutes until they start to turn golden.
allow them to cool a bit before transferring them on a cooling rack.
enjoy!
*********************
120 g butter
60 g zucker
180 g dinkelmehl
2 el getrockneten lavender
2 el wasser
alle zutaten zu einem kompakten teig vermengen und zu einem ball formen. den teig in frischhaltefolie wickeln und eine halbe stunde im kühlschrank ruhen lassen.
den ofen auf 190°C vorheizen.
den teig auf einer gut bemehlten fläche ausrollen und die kekse ausstechen. die kekse auf ein mit backpapier ausgelegtes backblech legen und fünf minuten backen, bis sie beginnen golden zu werden.
kurz auskühlen lassen und dann auf ein kuchenbitter geben, bis sie ganz ausgekühlt sind.
viel vergnügen!