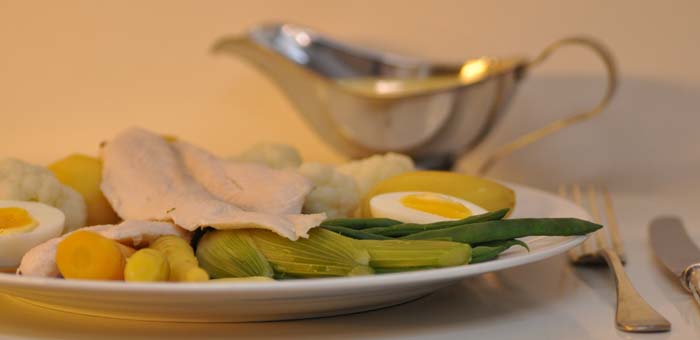 there are dishes you may get addicted to. this one is my personal obsession this season. this means we had it quite often in the last months. eating seasonal in a foodies kitchen often means, that most ingredients change quite rapidly. they grow once a year and you will cook some of your old favorites and something new with them and than they disappear again. aioli with fish we had so often that even my family was surprised.
even though i know aioli mainly from the spanish kitchen, this dish is french. it is from a french cookbook ("la cuisine des brasseries" by marie-piere moine) we discovered in a tourists book shop during my first visit to paris. i don´t know when it started, but during every vacation we buy a cookbook from the country or place we have been. that time in paris we almost missed buying a cookbook. it was sunday when we suddenly realized that we would go home without a book in our bags as the only shops which are open on sundays were tourist shops … indeed, not the best address to buy an good and authentic cookbook. but, we have been lucky! this is one of the best cookbooks i ever bought. there is not one recipe we did not love and i do not exaggerate!
but test it yourself. the idea of this recipe is very simple. you need some fresh vegetables which you will eat still firm to the bite, fresh fish cooked in bloomy white wine and fresh mediterranean herbs and some good aioli.
this aioli is a very easy self-made version. i always failed trying to make mayonnaise or aioli by myself. despite endless stirring they have been too runny. this version is quick, easy and will be perfect, just by using the immersion blender.
for 2 you will need:
500 g firm-fleshed fish filet or sea fruit, mussels or shrimps
2 hard boiled eggs
6 small potatoes
4 carrots
1 fennel
1/2 small cauliflower
250 g french beans
4 branches of thyme
2 bay leaves
1 onion
150 ml white wine
salt
pepper
aioli:
1 egg
1-2 cloves of garlic
1 tsp mustard (dijon)
1/2 tsp wine vinegar
2 tsp lemon juice
200 ml oil (mix of olive oil and sunflower oil)
a pinch of salt
wash and prepare the vegetables. i recommend just to halve the carrots, to quarter the fennel and to separate the cauliflower into small roses. the french beans and potatoes can stay as a whole.
cook the peeled potatoes in slightly salted water until done. bring the carrots to a boil in a large pot. after 5 minutes cooking add the cauliflower and fennel. cut off the stipe of the string beans and add too. after another 5-7 minutes, once all the vegetables are cooked but still crunchy, decant the water and chill with some cold water.
to poach the fish, put it in a large pan, together with the thyme, the bay leaves, the onion and the wine. cover completely with cold water. bring to a boil and reduce the heat and let it simmer for 8-10 minutes. once done, take out the fish, chill shortly with some water.
to make the aioli, just put all ingredients to a high bowl. set the immersion blender to the ground of the bowl, start and begin to lift the immersion blender slowly when the whole thing starts to get a mayonnaise consistence. et voila!
put the vegetables on a plate, set the fish on top and serve with the aioli.
i recommend some chilled white wine from the burgundy region, such as a chablis or pouilly.
bon appetite!