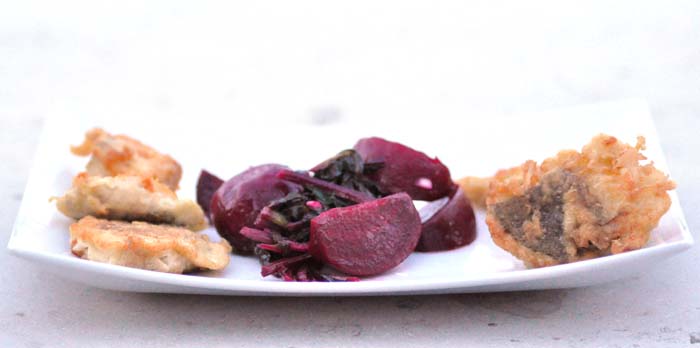 first of all i want to highlight that the greek kitchen has much more to offer than i initially expected! when we travelled together to greece the first time, we rented a windmill house close to the sea and decided to cook only greek dishes. and i was surprised that greek kitchen is much more than tzatziki and dolmades, which, by the way, i also love.
for our vacation in greece this year i bought a new greek cookbook called "echt griechisch!" (real greek) and got to know many new amazing greek dishes like this beetroot and beet greens salad. i think i already mentioned how much i am obsessed by using every single part of a vegetable instead of throwing half of them away. and the greens of beets are unbelievably close to spinach or chard. so i recommend to try it out!
as the cookbook suggested, we made some fried codfish to accompany the salad, which really fits perfectly well. the recipe is with salted codfish, so you have to start to water it two days prior. but you will be amply rewarded, as the fish will become very soft. you can´t imagine when you see the dried fish at the beginning.
fried codfish:
1 kg dried salted cod
150 g flour
2 eggs
olive oil
beetroot salad:
1 kg beetroot including the greens
6 tbsp olive oil
4 tbsp red or white wine vinegar
2 cloves of garlic
salt
first of all you have to wash the codfish, cut it into bite-sized pieces and put it into a large pan with cold water. cover it and let it water for 48 hours. during this time you have to change the water at least 3 to 4 times.
to prepare the salad, wash the beets, cut of the greens and put them aside. cook the beetroots in salted water for 30 minutes. add the greens and cook for further 20 minutes. after the cooking time peel the beetroots and cut them into wedges. roughly chop the greens and put both in a salad bowl.
combine the olive oil, vinegar, finely cubed garlic and a little bit of salt for the dressing and add it to the beetroots and greens. allow to marinate for at least one hour.
after the two days passed you can start to cook the codfish. earlier they are still too salty and too solid. mix the flour together with 300 ml of water and the eggs to a runny dough. heat the olive oil in frying pan. plunge the codfish pieces into the dough and fry them until golden and crunchy.
serve the fish as long as they are hot, together with the beetroot salad. i hope you will enjoy it and i recommend a chilled glass of retsina, which is the typical greek white wine. it has this very special resiny flavor, you must try it.