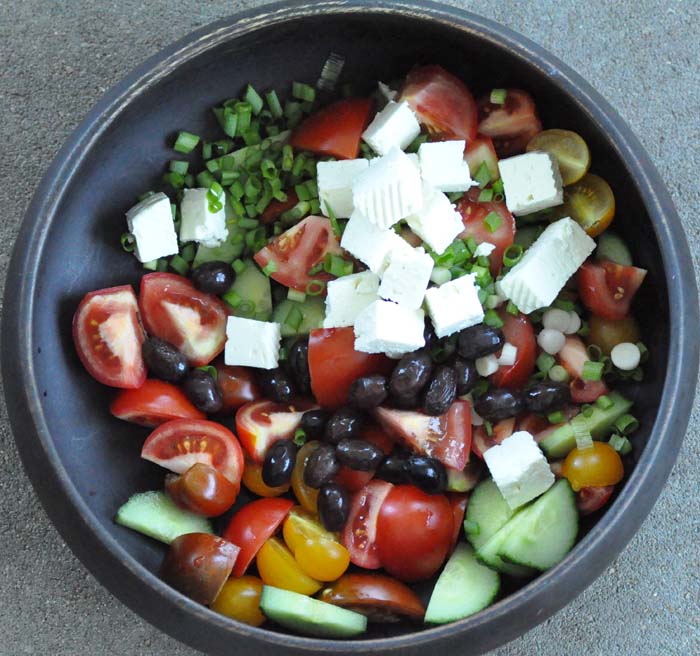 i am always very excited when i realize that almost everything on my plate is homegrown and a la minute from farm to table like this greek farmers salad is. when i bite into the crunchy cucumber and tasted the fruity sweetness of the tomatoes i thought that if you have high quality ingredients the recipe can even be very simple, it will be one of the best dishes you ever had!
the ingredients and amounts for a greek salad will vary from recipe to recipe. this is just a basic one with tomatoes, cucumber, feta cheese, olives and spring onions. instead of spring onion you can take red onions as well. some people add as well some green paprika and lettuce.
tomatoes
halve cucumber
200 g feta cheese
2 spring onions
kalamata olives
olive oil
juice of a half lemon
salt
pepper
wash the vegetables and cut into bite-sized pieces. finely chop the spring onions and cut the feta cheese into cubes. place the tomatoes, cucumber, spring onions and feta cheese together with the olives in a large salad bowl.
to prepare the dressing mix the olive oil, lemon juice, salt and pepper until combined to a dressing. i simply fill everything in an empty jam jar, close it with the lid and shake it until well combined.
done! pour the dressing over the salad and enjoy your meal with a piece of fresh white bread.