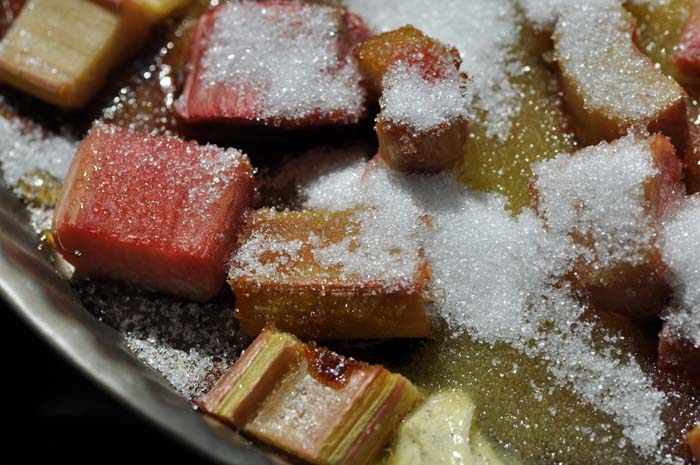 i discovered the recipe for this tarte on fleur du poirier and immediately fell in love! i think, i already told you that in general i don´t like rhubarb, but this rhubarb tarte tatin sweeped me off my feed. the secret is the ambrosial combination of the sweet and smoky taste of the caramel, the freshness of sour-tasting rhubarb and the harmonious flavor of the vanilla.
and despite it´s grandiose flavor, it is as simple and quickly done, just perfect if you wish to bake while the sky is blue and the sun is shining.
one bunch rhubarb
200 g sugar
60 g butter,
one vanilla pod
puff pastry
i used store bought frozen puff pastry. if you do so as well, you have to defrost in advance as much pastry leaves as you will need to cover your tarte tin. and bring the butter to room temperature.
preheat the oven to 250°C and place the empty tarte tin in the oven to preheat as well. clean the rhubarb an cut into small pieces. once the oven is hot enough, place half of the sugar into the tarte tin and caramelize it in the oven for about 5 minutes. but be attentive it can deflagrate easily. add the rhubarb and bake for another 10 minutes. in between, cut the vanilla pod lengthwise and scrape out the seeds. mix the seeds with the butter. once the rhubarb baked for 10 minutes, sprinkle over the vanilla butter and add the second half of the sugar. cover with the puff pastry, which should perfectly fit the tarte tin.
reduce the heat to 220°C and bake the tarte for another 20 minutes until the the puff pastry looks nicely golden. remove from the oven and let it rest for about 10 minutes. if it cooled down a bit, decant the remaing juice and turn the tarte upside down on a cake plate. it doesn´t matter if some rhubarb pieces still stick on the tarte form, just scrape them off and place them on your tarte.
it nicely fits to some vanilla ice cream or some whipped cream if you like. but you will enjoy it even au naturel.