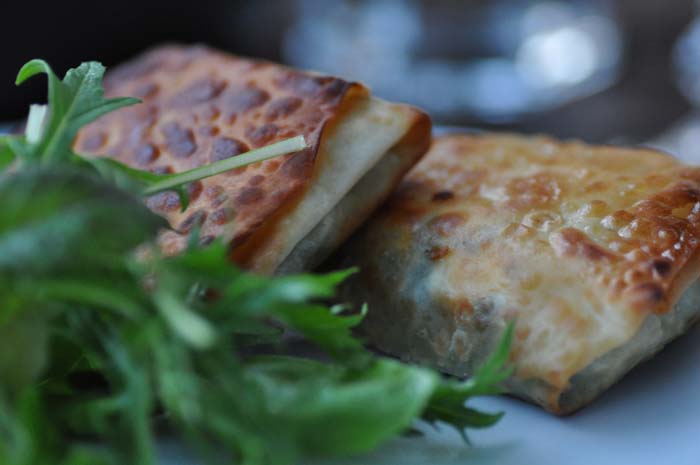 it is time to harvest the spinach of the early spring first sowing round. there are many ways of eating spinach. one of my favorite is börek or gözleme. for a really long time i was looking for the perfect recipe to do this kind of pastry by myself. i found this version in delphine de montaliers cookbook "gemüse & gemüse" which means vegetable & vegetable. it is by the way a really good cookbook for all gardeners as the ingredients of the recipes are, right, vegetables and in addition the recipes are classified by seasons. what makes this spinach pastry special is that there is some mint mixed in. it gives the pastry an aromatic and fresh flavor.
250 g spinach
olive oil
2 spring onions
250 g feta cheese
2 tbsp chopped mint leaves
pepper
20 g butter
yufka or filo pastry
wash and drain the spinach. cut the spring onions into thin slices. heat the olive oil and sauté the spring onions. add the spinach and let it wilt. cool it down a little bit and squeeze out as much liquid as possible and finally chop the spinach roughly. than mix the spinach with the crumbled feta cheese and the chopped mint. season to taste with some pepper. depending on your feta cheese it may be necessary to salt the mixture a little bit, but be careful, feta cheese often is already salty enough.
melt the butter and cover your first pastry leave with it. place some spinach and feta mixture on the leave and fold it to a package. i recommend to fold two opposite (lengthwise) sides first and than fold up the other two sides so that you have a four side closed package. otherwise the spinach and cheese may leak out while melting. repeat until your spinach and feta mixture is used up.
heat again some olive oil and fry each pastry for some minutes on each side until golden. put them on some kitchen towel to rinse the remaining oil. serve them with an aromatic salad like rucola, young pak choi, mizuna and other asian greens and a simple olive oil and lemon juice dressing.
the spinach pastries are best as long as they are hot. bon appetite.