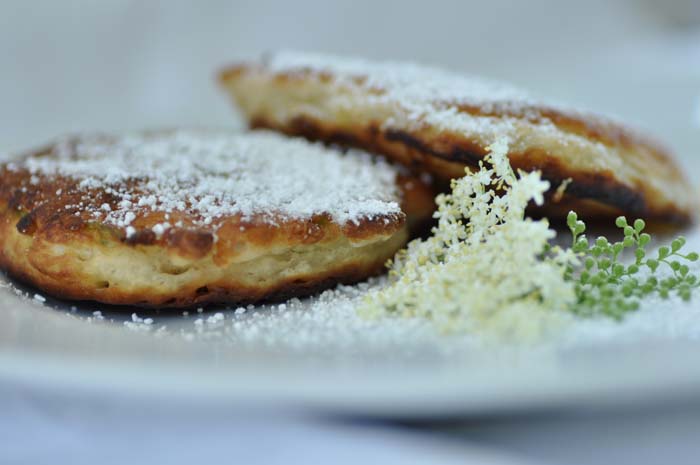 this dish is, i guess, a very austrian one. i am not sure if i am right but at least i read about it the first time in an austrian cook book. elder is a plant that grows almost everywhere just like weed, even if you don´t like it. if you have some elder at an unwanted place, you can cut it down, you can root it out and plant it to another place and … it will grow again. that´s why you don´t even need a garden to bake hollerkuechle, because you will find elder almost everywhere. but don´t use the first one you will find close to the polluting streets.
not only the berries of elder are eatable but also the flowers. the most classical ways to eat them are in pancakes or as a syrup. a very flowery flavor is typical to these recipes and perfect for spring and early summer.
as pancake dough you can simply use your standard one. i would recommend two to you. the first one is by sarah wiener. it is made with some white wine, which perfectly emphasizes the flowery taste of the elderflower. the second one is without egg and alcohol.
elderflowers
sunflower oil
200 g flour
300 ml white wine
4 tbsp butter
2 eggs
1 tbsp sugar
a pinch of salt
or
400 ml milk
250 g flour
60 g sugar
1 tsp baking powder
and to serve some icing sugar
to prepare the elderflowers it is important not to wash them because they would lose it´s special aroma. select them carefully looking for small flies or aphids. if there are a few of them you can take the flower and remove the unliked animals carefully.
mix the ingredients of your dough until they are well combined. in the case of the more sophisticated including eggs and white wine version you have to beat the egg whites to fold them in at the last stage.
to fry the elderflowers, heat some sunflower oil in a large pan. douse the first elderflower umbel into the dough and place it into the pan. therefore you can use the stalk to handle it. i suggest to cut it off once placed in the pan. and i also suggest to flatten the elderflower a little bit before turning. they are done when nicely golden on both sides. just put them on a kitchen towel to drain the remaining oil before serving.
decorate with some sieved icing sugar while still warm as a desert or afternoon snack. a glass of cremant or well chilled white wine will fit perfectly.
p.s. while browsing through the net i found a well fitting foodblog event for foodiesgarden: simple and in season of the two hosts how to cook good food and fabulicious food and decided to participate with this post. check it out if you like.