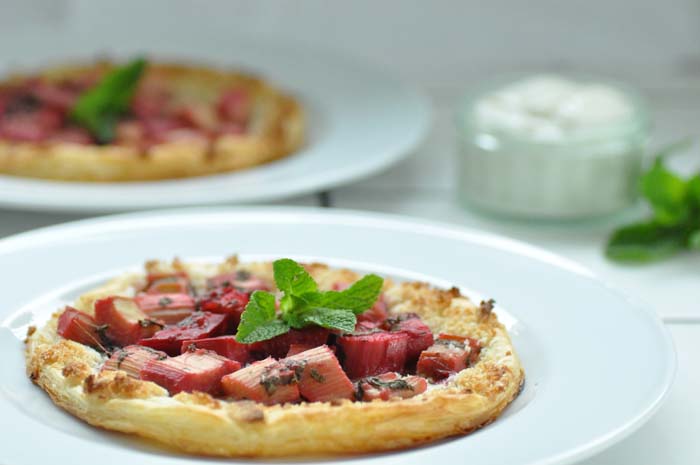 these tartlettes have a real story. i already mentioned last year that i do not really like rhubarb. nevertheless i posted one cake with rhubarb and following this post a friend of mine sent me this recipe, as he noticed that literally the only way i can eat rhubarb is as an ingredient of cakes. and these rhubarb tartlettes are so delicious that he could not imagine that they could not meet my taste and he was right! that's why i am sharing it with you all now.
this beautiful red rhubarb is a very old strain, almost died out, but en vogue again in the last years. but mine is an original old cutting, as i also already told you last year while writing about the rhubarb tarte tatin but i really have the need to tell this story again and again as the mother plant is from the kitchen garden of my grandma. she died a long time ago, so it makes me feel very sentimental each time it's rhubarb season.
but beside this very personal feeling these tartletts are great. very delicious and little time consuming in preparation. if you use ready made puff pastry and ready made marzipan you will be done in less than half an hour. and it combines sweet marzipan and sour rhubarb, accompanied by some mint and honey stirred greek yoghurt.
the recipe is adapted from the great berlin and hamburg based concept store kochhaus, i already introduced to you in the tarte tatin de pomme-post. having a memory like a sieve we once started to travel to our garden without one of the boxes full of our provisions. the puff pastry luckily was with us, the marzipan unfortunately not, so i invented a kind of very easy made marzipan by combining sugar, almonds and orange blossom water. that´s why my tarteletts looked a little bit crumbly, but it did not harm the delicious taste.
for 2 small tartlets:
puffpastry
50 g marzipan (or 50 g almonds, 50 g sugar and orange blossom water)
4 rhubarb stalks
1 package vanilla sugar
125 g greek yoghurt
1 tbsp honey
one hand full of mint
1 tbsp sugar
preheat the oven to 220°C. cut the rhubarb stalks in 1cm pieces. chop the mint in stripes but set some nice leave aside for decoration. pour the rhubarb and one tbsp of sugar in a pan and let it simmer for about 10 minutes. after 10 minutes add the mint .
in the meantime you can cut the puff pastry in two 18 cm diameter circles. also form two eaqually sized circle of marzipan. therefore use a rolling pin and some clingfilm. put half of the marzipan between two pieces of clingfilm and roll it out. repeat with the second part of the marzipan.
place one marzipan circle on each puff pastry circle and top with the rhubarb. bake for about 10-20 minutes. they are ready when the edge will turn golden.
prepare the yoghurt by combining yoghurt, honey and vanilla sugar.
serve the tartlets with some yoghurt and mint decoration for tea or as desert.
enjoy!
********************
blätterteig
50 g marzipan (oder 50 g mandeln, 50 g zucker, orangenblütenwasser)
4 stangen rhababer
1 päckchen vanillezucker
125 g griechischen joghurt
1 el honig
1 handvoll minze
1 el zucker
den ofen auf 220° vorheizen. den rhababer in 1cm stücke schneiden. die minze in feine streifen schneiden und einige minzblätter zu dekoration beiseite stellen. rhababer und zucker in eine pfanne geben und 10 minuten köcheln lassen. danach die gehackte minze untermischen.
in der zwischenzeit den blätterteig in zwei kreise von 18 cm durchmesser schneiden. zwei ebensolche kreise aus dem marzipan herstellen. dazu werden ein nudelholz und frischhaltefolie verwendet. zwischen zwei lagen frischhaltefolie die hälfte des marzipans legen und mit dem nudelholz ausrollen. mit dem zweiten teil des marzipans wiederholen.
je einen marzipankreis auf einen blätterteigkreis legen und den rhababer darauf verteilen. für 10-20 minuten backen. der rand sollte schön golden werden.
den joghurt mit honig und vanillezucker mischen.
die tarteletts mit joghurt und minze dekoriert zum kaffee oder als desert genießen.
guten appetit!