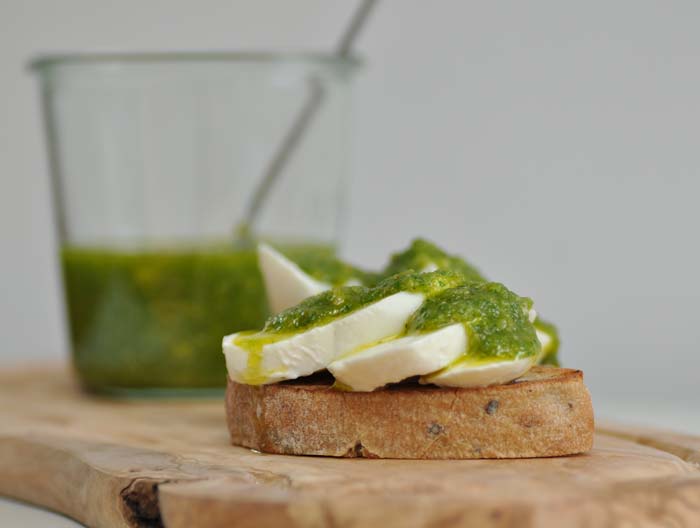 as i love finding food out in the nature, i also like eating those parts of vegetables people normally would throw away. if you are a gardener and know about the relation between  the part of vegetables you finally eat and the huge amount of stuff you throw on the compost, you know what i mean.
so i was very happy to discover the radish greens pesto on delicious days – by the way the very first food blog i started reading passionately – and to spread this great idea. i followed the delicious days recommendation and combined the radish greens pesto with roasted ciabatta and mozzarella. i hope you will like it as much as i do.
greens of one bunch of radish
olive oil
one hand of grated parmesan
one small hand of hazelnut
one clove of garlic
salt and pepper
ciabatta or other kind of white bread
buffalo mozzarella
wash and dry the radish greens. roast the hazelnuts in a pan. if they are not pealed yet, just put them with the skin in the pan, it will drop off almost by itself while frying. add the greens, hazelnuts and a good splash of olive oil into the kitchen machine. mix until everything is well combined and the greens and the hazelnuts become as finely shredded as you like. add more olive oil if necessary to get a smooth paste. finally mix in the grated parmesan and season with salt and pepper.
to make the bruschetta, roast the slices of the ciabatta. place a few slices of the mozzarella on each ciabatta and top each with some radish green pesto. it is great for lunch or as a starter.