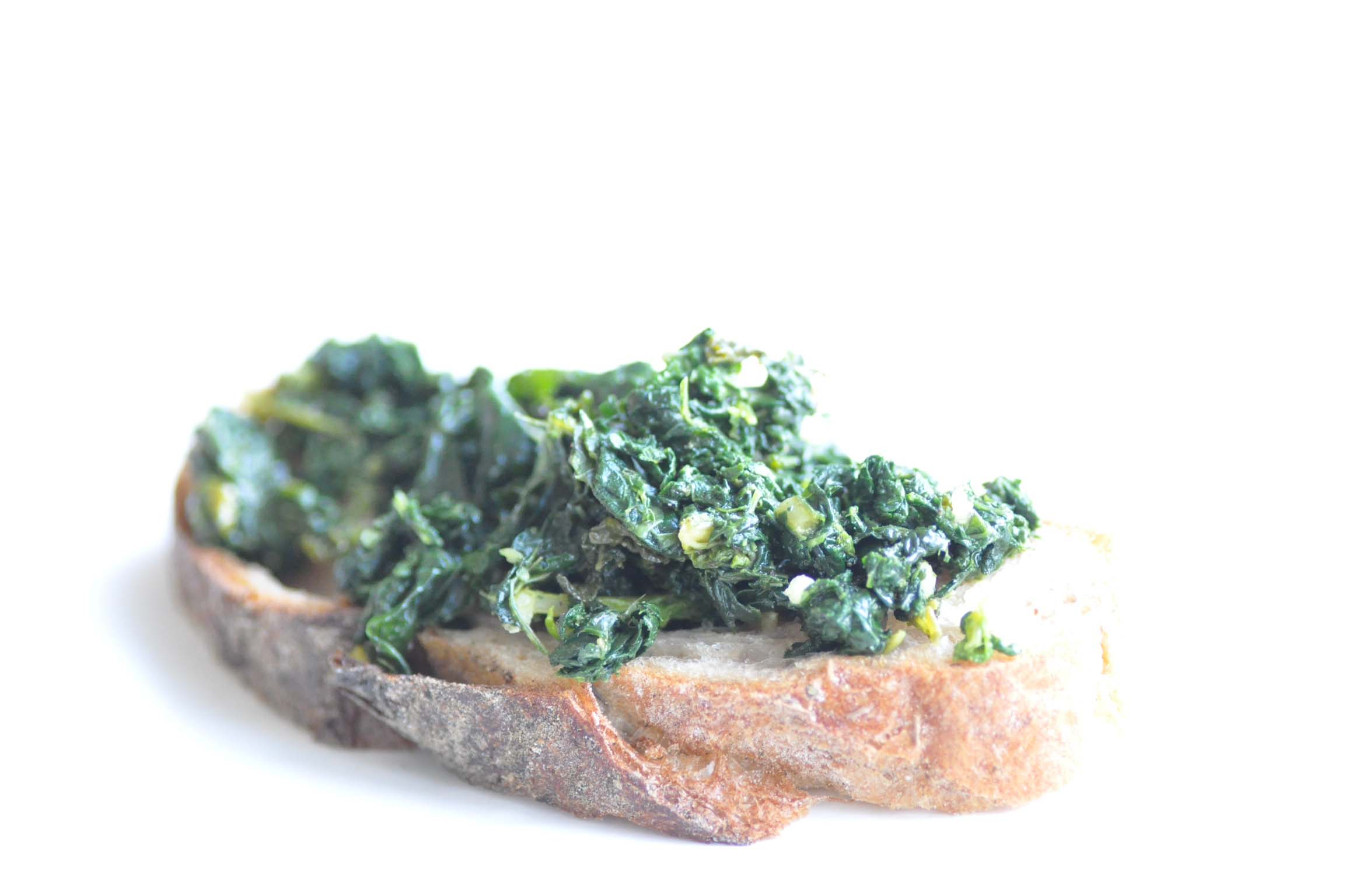 this is one of the unknown classics of the italian kitchen: cavolo nero con lefette, bruschetta with kale. and as it is a typical tuscan country cuisine you can use whatever kind of kale you have – black kale, curly kale, palm kale, …
combined with some garlic and fresh farmhouse bread it will be a perfect starter for an italian meal or a tiny snack in-between. and if you think now – kale – oh no, thank's … try it! it has nothing, absolutely nothing to do with all the dead cooked kale recipes you may have in mind.
almost unknown outside italy, you will find a recipe like the following in almost every traditional italian cookbook.
enjoy the last winter vegetables. spring is coming very soon!
for 4:
1 kg kale (black, curly, palm kale, …)
sea salt and freshly grounded pepper
8 pieces of fresh farmhouse bread
3 cloves of garlic
olive oil
wash the kale and remove the stalks. cut the kale into stripes.
bring a large pan with salted water to a boil and let the kale simmer for about 20 minutes. pour off the water and allow to cool before you squeeze out all the remaining liquid. if necessary, cut the cooked leaves into small pieces.
roast the bread and rub with the garlic. pour some of the kale on each bread, season with sea salt and pepper and sprinkle with some olive oil.
enjoy!
***********************
1 kg kohl (schwarzkohl, grünkohl, palmkohl, …)
meersalz und frisch gemahlener pfeffer
8 scheinen frisches landbrot
3 knoblauchzehen
olivenöl
den kohl waschen und die dicken rippen und stiele entfernen. anschließend den kohl in streifen schneiden.
in einem großen topf gesalzenes wasser zum kochen bringen und den kohl darin etwa 20 minuten köcheln lassen. dann abgießen und auskühlen lassen bevor sämtliche flüssigkeit herausgequetscht wird. falls nötig die blätter noch mal etwas kleiner schneiden.
das brot rösten und mit knoblauch einreiben. auf jedes brot etwas kohl geben, mit meersalz und frisch gemahlenem pfeffer würzen und mit olivenöl beträufelt servieren.
guten appetit!