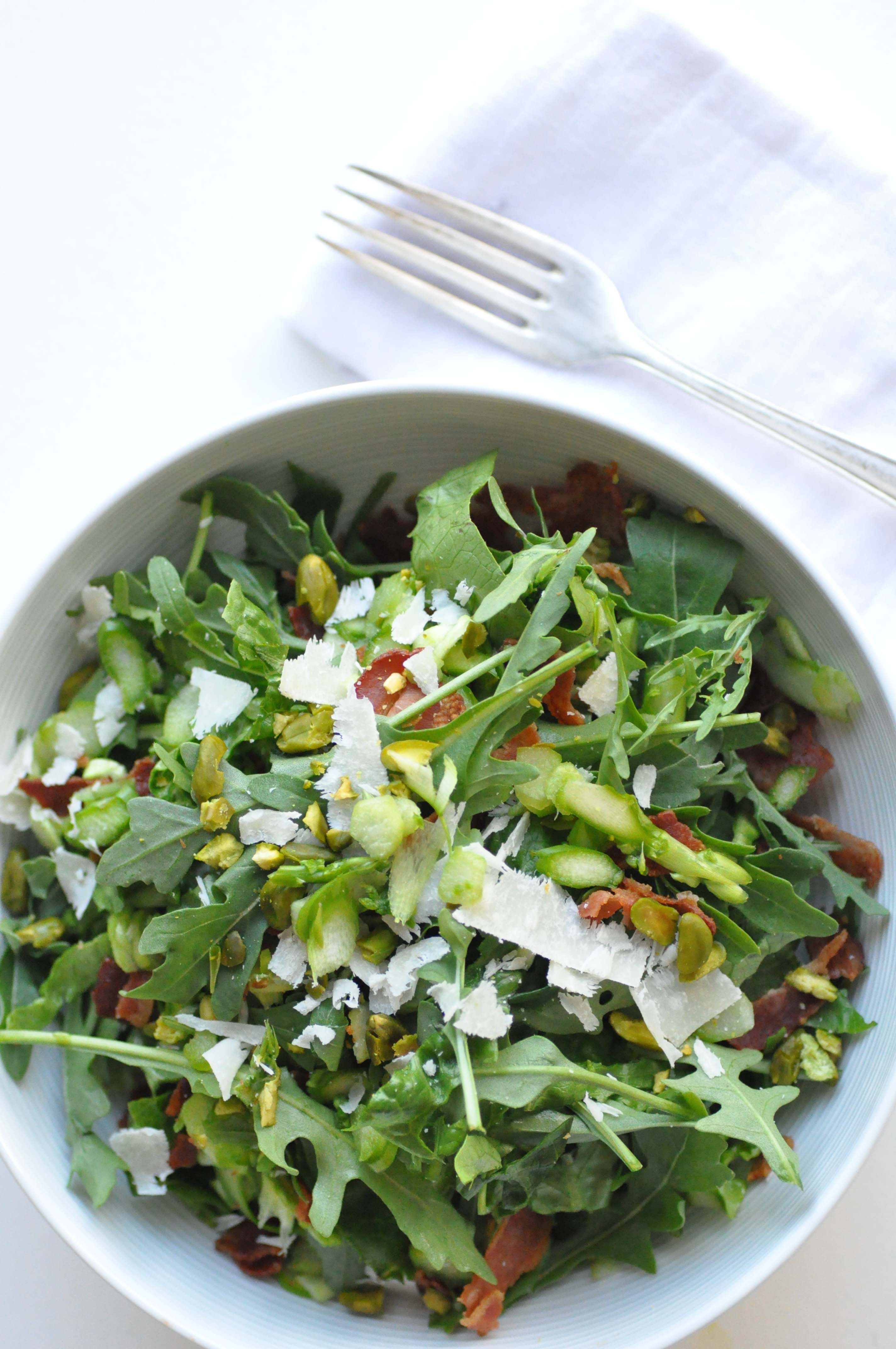 times are so crazy, that there is almost no time for the nice things in the moment. of course we are having nice dinners, often. and of course we are gardening, somehow. but blogging? no way, unfortunately. but there are a couple of asparagus recipes I have to share with you before the season will be over.
so i will try to post some of our favorite asparagus recipes in the next couple of days. if you already thought i probably have quit blogging stay connected. i will really try hard to find the time over the next days.
number one is a salad with raw green asparagus, very thinly cut, with rocket and crispy fried bacon. this salad is an enlightenment! for me, it was the very first time I had raw asparagus. and to tell you the truth, i was very skeptical how this would taste and how it would be to bite on raw asparagus. it is soft and fresh and crunchy – perfectly combined with a lemon and olive oil dressing. a recommendation to all of you having enough of the sauce hollandaise and enough of all the asparagus and egg combinations.
i once found the recipe in the australian dish magazine. it is a couple of years ago, but very in line with all the raw and superfood movement we can observe right now.
enjoy!
for 4:
150 g bacon
a bunch of green asparagus
1 cos lettuce (or other) finely shredded
100 g rocket
1/4 cup pistachio nuts
parmesan
4 tbsp olive oil
1-2 tbsp lemon juice
1 clove garlic, crushed
salt and pepper
heat a sauté pan and a splash of olive oil to fry the bacon until crisp. drain on kitchen towels and allow to cool. later you can break the beacon into small pieces.
wash and rinse the asparagus. cut off the woody ends and peel if necessary. slice the asparagus very thinly on the diagonal. combine the asparagus with the shredded cos lettuce and the rocket.
combine with the olive oil, lemon juice, crushed garlic, salt and pepper to prepare the dressing. combine the dressing with the asparagus and lettuces and add the pistachio nuts, the crumbled bacon and shaved parmesan cheese.
thats it – enjoy!
**********************
für 4:
150 g bacon
ein bund grüner spargel
1 romanasalat (oder ähnlicher)
100g ruccola
1/4 tasse pistazien
parmesan
4 el olivenöl
1-2 el zitronensaft
1 knoblauchzehe
salz und pfeffer
in eine pfanne etwas olivenöl erhitzen und den bacon darin kross braten. auf etwas küchenrolle abtropfen und abkühlen lassen und anschließend zerbröseln.
den grünen spargel waschen und abtropfen lassen. die holzigen enden abschneiden und gegebenenfalls schälen. dann den spargel diagonal in sehr dünne scheinen schneiden. den romanasalat ebenfalls waschen und abtropfen und dann klein schneiden. auch den ruccola waschen und abtropfen und eventuell etwas zerkleinern. alles in eine schüssel mischen.
für das dressing olivenöl, zitronensaft, gepressten knoblauch, salz und pfeffer mischen. das dressing unter den spargel und die salate untermischen und die pistazien, sowie gehobelten parmesan und den zerbröselten bacon .
fertig – guten appetit!