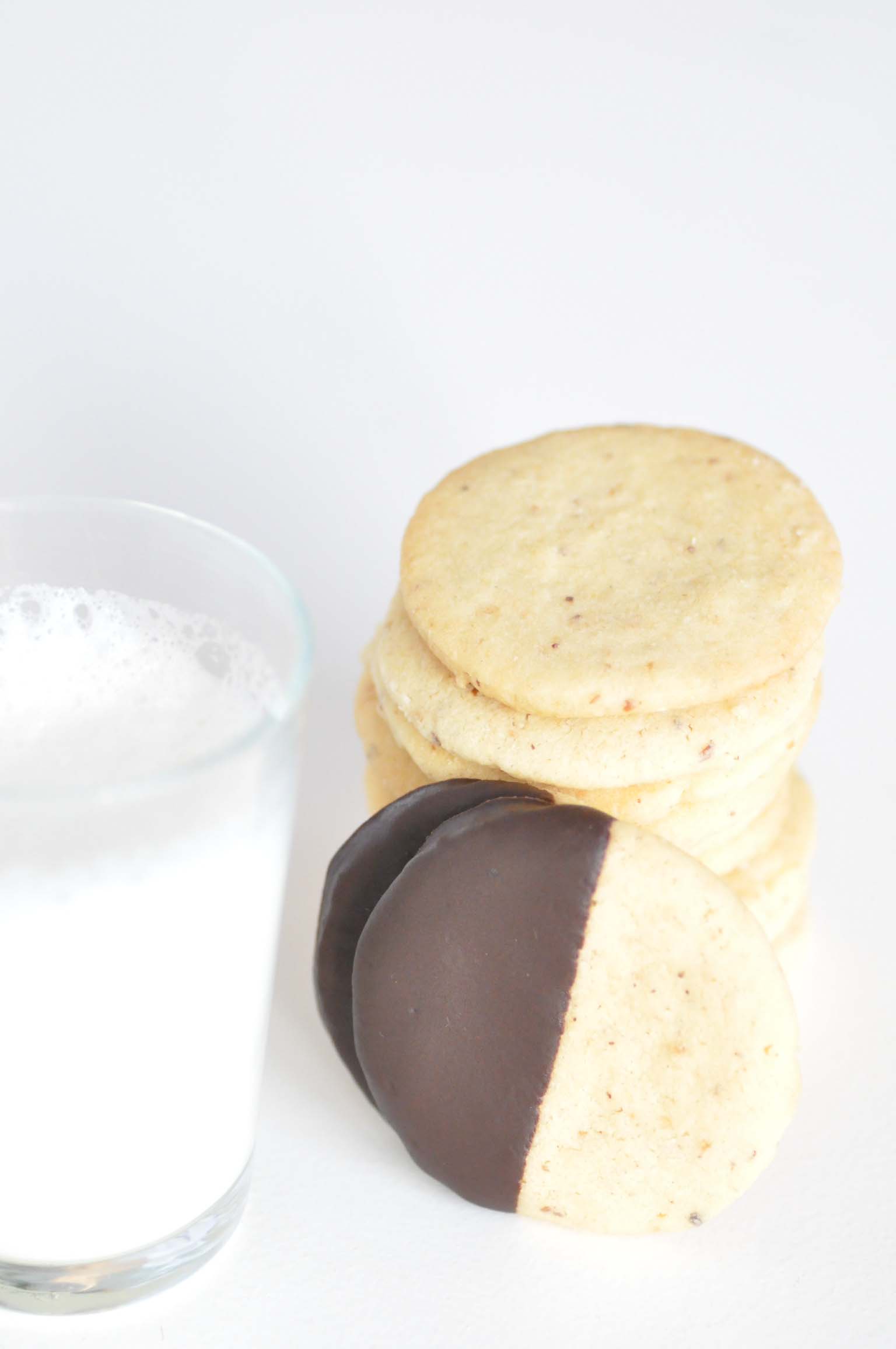 a cookie is always a good idea!  these chocolate covered hazelnut cookies are simple and very fine. all in one biscuit. and as we still had a huge amount of hazelnuts at home, they are very welcome.
you can enjoy the hazelnut cookies with chocolate or without chocolate, as you like. they are delicious both ways.
if you do not have hazelnuts you can add other kinds of nuts as well. the hazelnut version is from atdownunder.
210 g flour
80 g roasted ground hazelnut
200 g soft butter
60 g fine sugar
200 g chocolate coating for dipping
combine flour, hazelnuts, butter and sugar to a dough. wrap in cling film and allow to chill at a cool place, but not in the fridge, for about 30 minutes.
preheat the oven to 180°C. line a baking tray with baking paper. roll out the dough on a floured surface and cut out the cookies. bake them for 10-12 minutes or until golden.
remove carefully from the oven and allow to cool on a cooling rack. if you like, you can dip them in some melted chocolate coating.
enjoy!
********************
210 g mehl
80 g geröstete und gemahlene haselnüsse
200 g weiche butter
60 g feiner zucker
200 g schokoladen-kuvertüre
mehl, haselnüsse, butter und zucker zu einem teig verarbeiten. den teig in frischhaltefolie wickeln und etwa 30 minuten an einem kühlen ort, nicht dem kühlschrank, ruhen lassen.
den ofen auf 180°C vorheizen. ein backblech mit backpapier auslegen. den teig auf einer bemehlten fläche ausrollen und die kekse ausstechen. 10-12 minuten golden backen.
die gebackenen kekse aus dem ofen nehmen und vorsichtig zum auskühlen auf ein kuchenbitter geben. wer mag, kann die ausgekühlten kekse in geschmolzene schokoladen-kuvertüre dippen.
viel vergnügen!