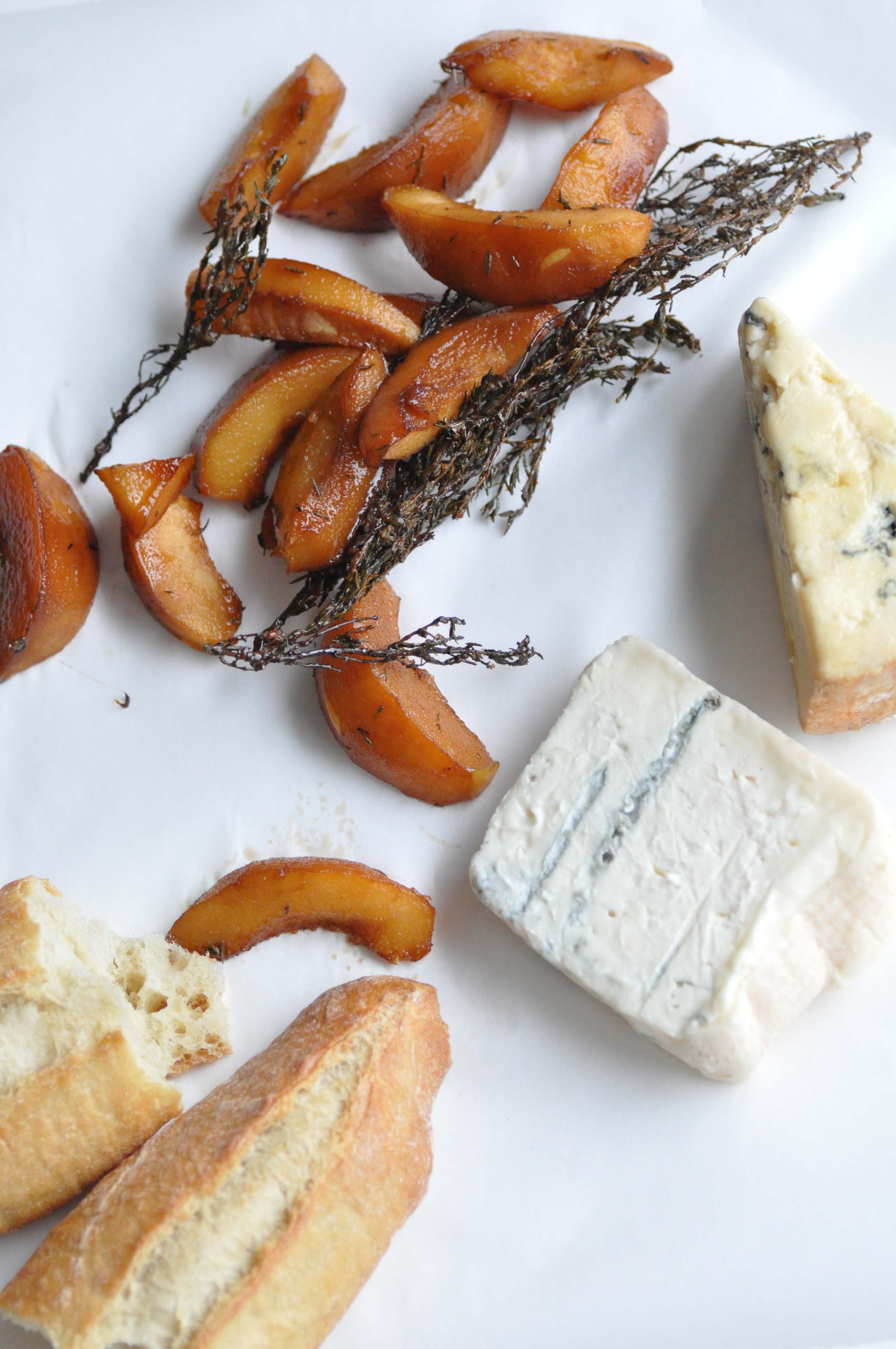 quinces are real little wonders. they are furry and hard as stone before cooking them, but soft and fruity when cooked or baked. and they smell like heaven! as you can store them from autumn on during the whole winter they are perfect when there is only cabbage left in the garden.
this is the first season that our quince tree had fruits. so now i am discovering what to do with quince beside quince jelly. my mom is the expert for that and supplies the entire family.
particularly appealing are savory combinations with quince to me. and here comes a really delicious combination of baked and caramelized quince with thyme and blue cheese. served with some crunchy white bread it is a very delicious lunch or light dinner. to make a full meal out of it you can additionally serve a green salad with vinaigrette.
for 2:
4 quinces
juice of halve a lemon
thyme
4 tbsp dark brown sugar
blue cheese (like stilton, gorgonzola or roquefort)
baguette
preheat the oven to 180° C.
peel the quinces, remove the cores and cut into wedges. immediately pour in a bowl in which you combined the lemon juice with some water to avoid the quinces to colorize.
dry the quinces and place them, together with some thyme, in a oven proof dish. sprinkle with the sugar and add some tbsp of water. cover with aluminum foil and bake for about 20 minutes. remove the foil and bake for another 20 minutes until the quinces are soft and the sugar is caramelized. to cover the quinces entirely with the caramelized sugar, flip the quinces over for several times.
serve the warm quinces with blue cheese and white bread.
enjoy!
********************
für 2:
4 quitten
saft einer halben zitrone
thymian
4 el dunklen braunen zucker
blauschimmelkäse (zb. stilton, gorgonzola oder roquefort)
baguette
den ofen auf 180° C vorheizen.
die quitten schälen, kerne entfernen und in achtel schneiden. die geschnittenen quitten sofort in ein vorbereitete schüssel mit wasser und zitronensaft geben, um hässliche verfärbungen der quitten zu vermeiden.
die abgetrockneten quitten zusammen mit dem thymian in eine auflaufform geben. den zucker und ein paar esslöffel wasser darüber geben. mit aluminiumfolie abdecken und 20 minuten backen. dann die folie entfernen und noch mal 20 minuten backen bis die quitten weich sind und der zucker karamellisiert ist. damit die quitten rundherum mit dem karamellisierten zucker umhüllt sind, ab und zu in dem karamell wenden.
die warmen quitten mit blauschimmelkäse und baguette servieren.
guten appetit!