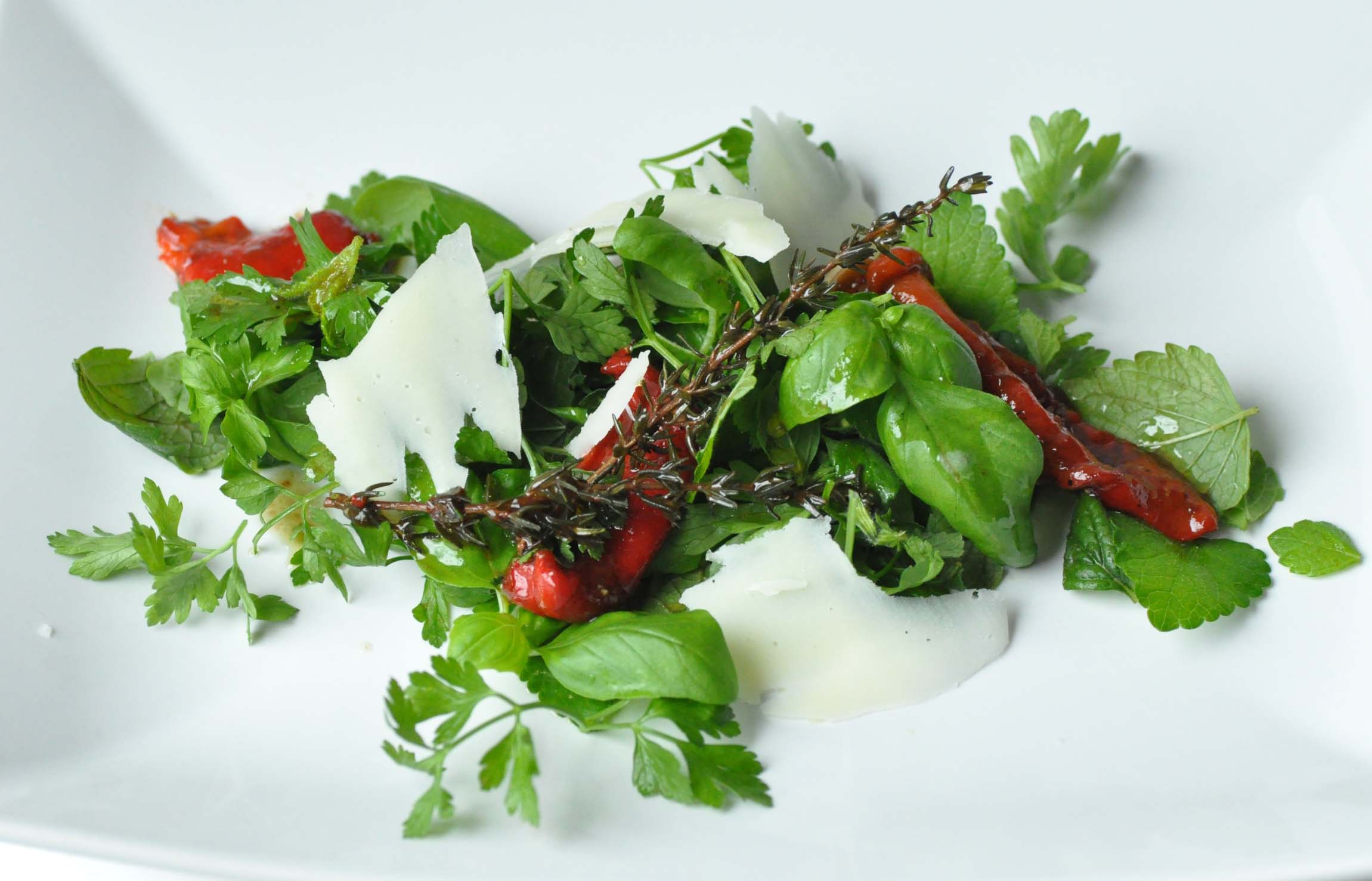 one more time this fabulous salad is one of the great ottolenghi creations i adore so much. as the garden and the fridge do not always allow to cook original recipes line by line, i made some adaptions. but this was without any damage to the ottolenghi creation i guess. but see yourself.
we had no watercress, but i used almost all kind of herbs we had: parsley, basil, lemon balm, mint, sorrel and young spinach leaves as far as i remember. we also had no pecorino, but provolone. what we had was bell pepper, semi-homegrown. read the story here, if you like to know what that means.
the bell pepper should marinate at least for one hour but better over night, so plan enough time.
2 red bell pepper
salt
4 tbsp olive oil
1 tbsp balsamic vinegar
1/2 tsp brown sugar
2 branches of thyme
1 clove of garlic
black pepper
greens (parsley, basil, young spinach, lemon balm, mint, sorrel)
50 g provolone cheese
1 tbsp capers
the first step is to remove the bell pepper´s skin. therefore preheat the grill of your oven to the highest possible temperature. grill the bell pepper from each side until the skin becomes black. if you are a lucky and have a gas stove, you can grill the bell peppers as well over the burner directly. pour the grilled bell pepper in a freezing bag and let it rest for 30 minutes. after that time they should be cool enough to touch and you can easily remove their skin. remove the kernels and cut the bell peppers in stripes.
to prepare the marinade, combine 2 tbsp olive oil, the balsamic vinegar, 1 tbsp water, sugar, thyme, sliced garlic, salt and pepper. place the marinade and the bell pepper back in the freezing bag and store in the fridge.
if you are ready to serve, wash the greens and arrange together with the bell pepper and the carpers on plates. sprinkle over the remaining 2 tbsp olive oil and some marinade and the grated cheese.
enjoy!
***********************
2 rote paprika
salz
4 el olivenöl
1 el balsamico
1/2 tl brauner zucker
2 zweige thymian
1 knoblauchzehe
schwarzer pfeffer
kräuter&grünes (petersilie, basilikum, junger spinat, zitronenmelisse, minze, sauerampfer)
50 g provolone käse
1 el kapern
der erste schritt ist die paprika zu enthäuten. dazu den grill im ofen auf maximale temperatur vorheizen. die paprika werden von jeder seite so lange gegrillt, bis sie fast schwarz werden. alle glücklichen gasherdbesitzer können die parika auch direkt über der flamme grillen. die gegrillten paprika in einen gefrierbeutel geben, verschließen und 30 minuten ruhen lassen. wenn die Paprika nach dieser zeit soweit abgekühlt sind, dass man sie anfassen kann, kann die haut ganz einfach entfernt werden. auch die kerne entfernen und die paprika in streifen schneiden.
für die marinade 2 el olivenöl, balsamico, 1 el wasser, zucker, den thymian, in scheiben geschnittenen knoblauch, salz und pfeffer mischen. die marinade und die paprika zurück in den gefrierbeutel geben und über nacht im kühlschrank marinieren.
kurz vor dem servieren kräuter&grünes waschen. gemeinsam mit den paprika und kapern auf tellern arrangieren. etwas marinade mit 2 el olivenöl mischen und über die salate geben. zum schluss grob geriebenen provolone darüber geben.
guten appetit!