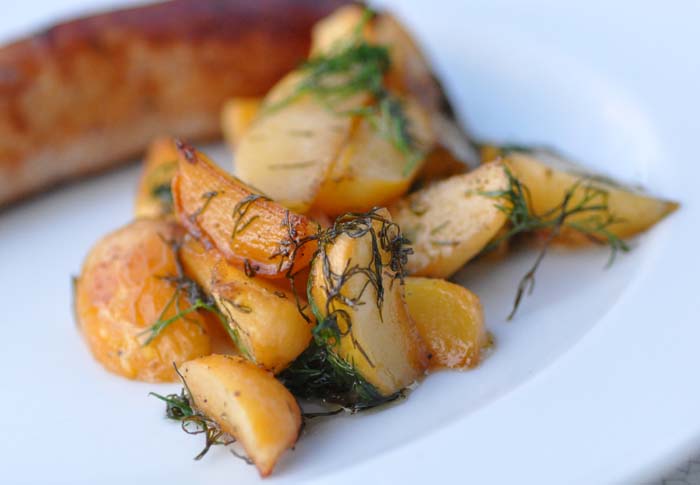 sweet, earthy, hearty – this describes this composition of turnips, aneth and italian sausages. the turnips already have a sweet and earthy flavor and the aneth somehow will even enhance this character.
as cooking with turnips is still very new to me i am very thankful for this nice idea from nigel slaters cookbook tender. and it is completely different from the other turnip recipes of my gardening and cooking repertoire and a welcomed addition to the teltow turnips recipe from last summer.
so if you want to enjoy something simple and down-to-earth go with this one. combine the turnips with hearty italian sausages. meet balls or some lamb would also be great.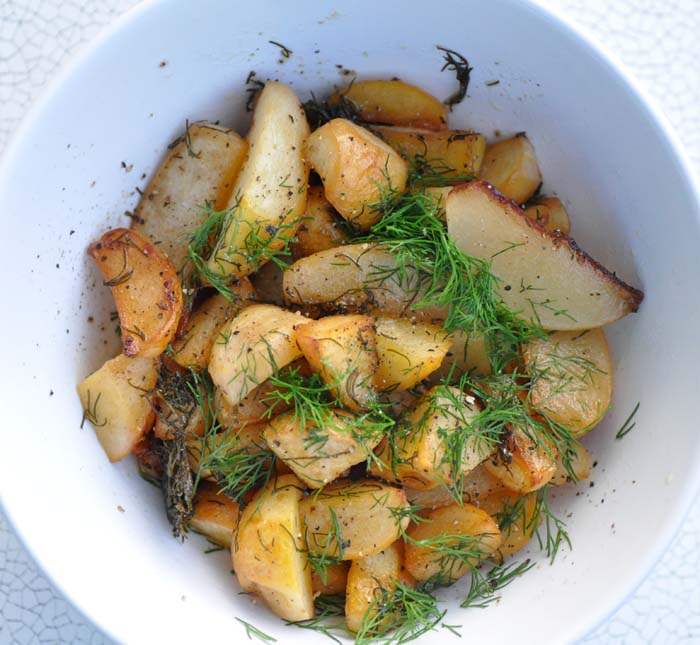 500 g turnips
1 tbsp butter
1/2 tsp sugar
one splash of sherry
pepper
aneth
italian sausages
peel the turnips and cut them into wedges. put the turnips together with the butter, sugar, sherry, pepper and some of the aneth (set some aneth aside for later decoration) in a pan, cover and simmer until the turnips turned soft. this will take about 15 minutes.
season to taste and sprinkle over the remaining aneth. grill the sausages and enjoy. best accompanied with a glass of strong wine like rioja or chainti classico reserva.
********************
500 g rüben
1 el butter
1/2 tl zucker
spritzer sherry
pfeffer
dill
italienische würstchen
die rüben schälen und in viertel oder achtel schneiden. rügen, butter, zucker, sherry, dill (etwas dill für später zur seite legen) in einen topf geben, abdecken und leicht köcheln lassen bis die rüben weich sind. das dauert etwa 15 minuten.
abschmecken und den restlichen dill darüber geben. würstchen grillen und genießen. ganz großartig passt dazu ein kräftiger wein, wie zum beispiel ein rioja oder chianti classico reserva.