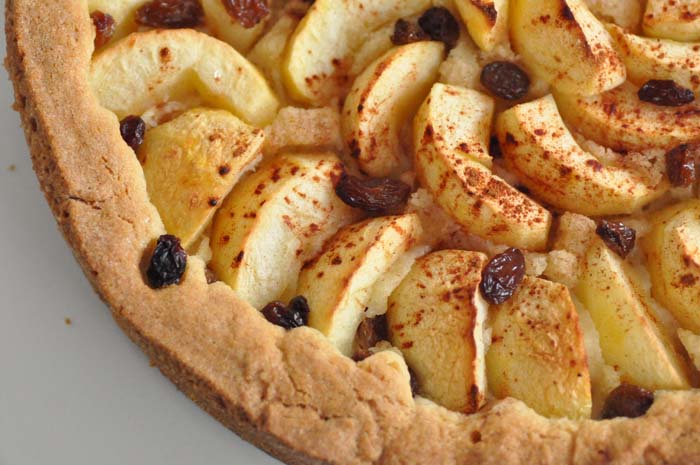 when it comes to apple pie i was pretty dictatorial as a child. every autumn my mom is telling me about my protests against baking any other kind of apple pie. she often wanted to try new recipes but i refused to eat them. i insisted on this one!
since that time i baked many different pies, cakes and tarte with apple. besides the french classic tarte tartin de pommes and the austrian classic apfelstrudel i still highly appreciate my mom´s apple pie. every year it is the first thing i bake with new apples.
this year i found some very good apple trees close to us, so i will surely do the other two apple favorites as well. did you pick some apples already?
here comes my mom´s apple pie recipe:
125 g butter
100 g sugar
1 egg
salt
zest of one lemon
1 package vanilla sugar
150 g flour
1/2 package of baking soda
apples
2 tbsp sugar
cinnamon
2 tbsp sunflower oil
raisins
dark rum or cognac
some hours before you start to bake the cake you have to soak the raisins in the rum or cognac or whatever alcohol you want.
stir the butter (room temperatured) and the sugar until well combined. then add the egg, vanilla sugar, one pinch of salt and the lemon zest and stir. finally add the baking soda and flour and knead to a compact dough. wrap it in cling film and let it rest in the fridge for about half an hour.
in the meantime you can prepare the apples. peel them, remove the core and cut into quarters. to avoid that the apples become brown i recommend to sprinkle them with some lemon juice. just take the lemon you just had for the lemon zest.
grease the pie pan with some butter and cover it with the dough. don´t try to roll the dough out as you usually do. i tried it very often and it never worked. just flatten it a little bit, pour it into the pie pan and push it where you want it. don´t forget to pull up a small edge on the sides, just a bit higher than the apples will be.
coat the pie with the apples. sprinkle over some sugar and cinnamon. drain the raisins and pour over the pie and finally sprinkle over the oil.
bake in the preheated oven at 180° C for 40-45 minutes. the baking time depends on your oven and as my mom´s recipe is a little bit vague, you have to have a look when the apple pie becomes golden.
enjoy and don´t hesitate to finish the cake already on the first day, as it is best on the first day anyhow.