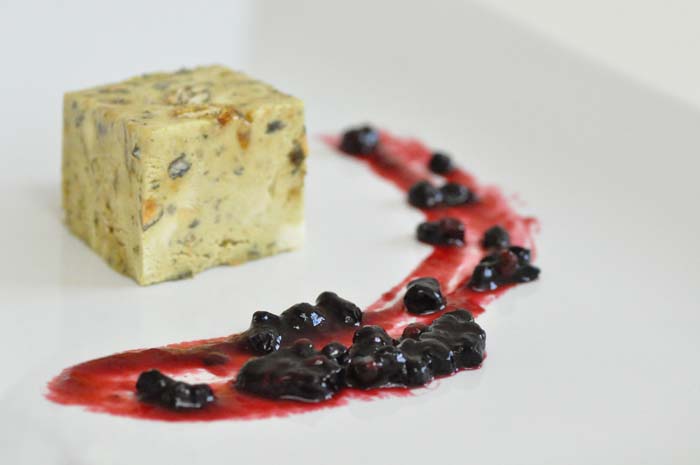 ladies and gentlemen, here comes something extraordinary … directly out of the hedge in front of your door. it is really amazing how delicious those elderberries are. and what a shame to leave them to the birds only year by year.
to pick off all the little berries is not painful at all, contrary to what i thought, and i finished the challenge without any violet color on my hands or clothes. you can do many things with elderberries, such as jam, jelly, syrup or you can cook compote as i did. its fruity sourness supports perfectly the sweetness of a parfait. i followed the recipe of johann lafers heimatkueche (again) and made some pumpkin seeds parfait. it is, just as all the other dishes of that book i tested until now, very, very delicious. and it is particularily exciting in this recipe, that he added some pumpkin seeds oil to this sweet desert. this was something i could not imagine before and added a great asset to my cooking experience.
but don´t despair if you don´t get pumpkin seeds oil to buy. i am sure the elderberry compote will also nicely accompany a parfait where you take some almonds instead of the pumpkin seeds and no oil at all.
you have to prepare the parfait some hours or one day in advance. but despite this, the recipe is not that complicated as it may look like.
pumpkin seeds parfait:
100 g pumpkin seeds
100 g sugar
4 egg yolks
50 g icing sugar
3-4 tbsp pumpkin seeds oil
400 ml cream
elderberry compote:
400 g elderberries
2-3 tbsp honey
100 ml apple juice or elderberry juice
1 vanilla pod
1 cinnamon stick
1 tsp cornflour
first of all roast the pumpkin seeds in a hot frying pan until they start to get brown and start to crack. put them aside, wipe out the frying pan and add the sugar. caramelize the sugar over medium heat. once the caramel is completely liquified and lightly golden, add the pumpkin seeds and combine. immediately flatten out the caramelized pumpkin seeds on some baking paper and let it cool out. it will take about 15 minutes.
now you have pumpkin seeds brittle and be aware of any people with a sweet tooth around you. they are so yummy, that you can eat them just as they are. what you should do instead is break it into pieces and chop them finely in a kitchen machine.
next step is to whisk the egg yolks with 2 tbsp of sugar over a hot (not cooking) bain-marie until stiff. remove from the bain-marie and whisk one more moment until cooled down a little bit. then add the chopped pumpkin seeds brittle and the pumpkin seeds oil and combine. whip the cream and add carefully to the egg and pumpkin seeds mixture.
coat a loaf pan with cling film and pour in the parfait mixture. smooth down and freeze for about 6 hours.
as the elderberry compote shall be served chilled, you can prepare it a day in advance as well. wash the elderberries and use a fork to pick the berries off.
heat a frying pan and add the honey. once the honey becomes liquid, add the berries, juice, cinnamon stick and the vanilla pulp and cook for one minute over medium heat. combine the cornflour with 2 tbsp of cold water and add to the compote to thicken it. therefore boil it up again and it should get your favored texture. chill down and serve with the pumpkin seeds parfait as a desert.
this desert will be a perfect finish for a special evening or having dinner with some special friends. i hope you will enjoy.
and because the parfait and elderberry compote looks so pretty i will hand it in by the cookbook of colors food blog contest for violet dishes in september.