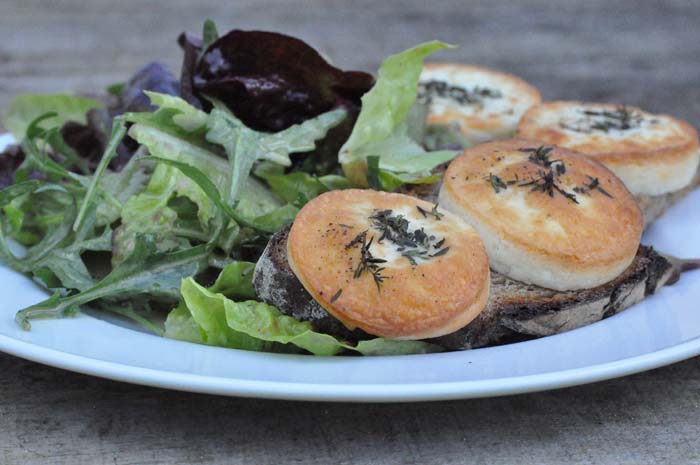 i am a great admirer of the french bistro kitchen. it is either very easy and quick to cook or to prepare in advance and to arrange in the twinkling of an eye. so if there are any french readers, please correct me if i am wrong. this salad is representative of the first category, very easy and quick to cook. and of course, it is unbelievably delicious.
 2 handful of young lettuce leaves
2 crottins de chavignol, very dry ones
1 tsp thyme leaves
2 slices of bread
3 tbsp olive oil
1 tbsp wine vinegar
1 tsp mustard
salt
pepper
first of all you have to preheat your grill as hot as possible. then wash the lettuce and dry in a salad spinner. combine the oil, vinegar, mustard, salt and pepper until you get a creamy dressing. if the grill is hot enough, place the halved crottins de chavignol on the bread slices. sprinkle over some thyme leaves and honey if you like. grill the bread and cheese until they get brown.
combine the lettuce and the vinaigrette dressing and divide onto two plates. place the bread and cheese on the top and finish with a little turn of pepper.
this salad will be perfectly accompanied by a glass of chilled rosé wine. bon appetite et à la vôtre!