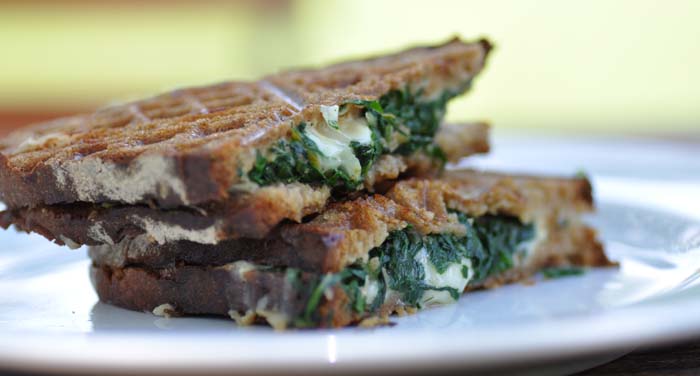 last summer we had so much chard in our garden that i ran out of ideas what to do with it. so during winter i collected every chard recipe that crossed my way and this is one of them. i found it on sprouted kitchen.
this grilled sandwich is for me a delicious, non-trashy reincarnation of the kind sandwiches i made with the sandwicher maker my parents had to buy for me when i was younger. they have been with salami, kraft single cheese, a lot of ketchup and maybe some pickled cucumbers. i have no idea where the sandwich maker is today.
so, opposite to the culinary stars of my youth, this grilled sandwich is effectively delicious and contains much more natural ingredients. however, due to the lack of a sandwich maker or even more sufisticated tools we had to grill our sandwiches in a waffle iron, but guess what, it works very well.
 4 slices of bread
2 hands of chard
1 mozzarella, grated
1/2 cup grated cheese (comté or gruyère cheese)
dijon mustard
1 shallot
wash the chard and remove the stems. roughly chop the chard and sauté with a little bit of olive oil until wilted. season to taste with some salt and pepper. let it cool down a little bit and squeeze out the remaining liquid.
finely cube the shallot and combine with the grated mozzarella and cheese.
spread some mustard on two slices of bread. place the sautéed chard on the other two slices of bread and set the cheese and shallot mixture on top. put together the sandwich parts and place them into a sandwich maker until golden and crispy outside. the cheese will be melted inside.
the suggestion on sprouted kitchen is to add some sliced apple as well. to me this sounds too 80´s. but feel free to try it out if you like.