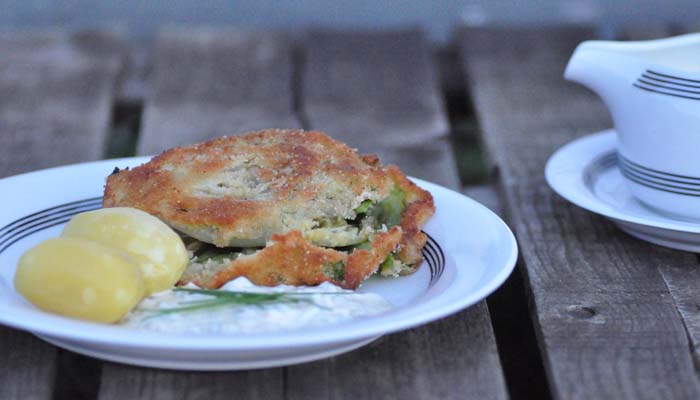 here comes another unorthodox dish to get variance for your menu during the glut of lettuces. because i can´t eat any lettuce in a salad any more i tried to fry the garden lettuce which is by the way a great vegetarian alternative to viennese schnitzel.
i don´t know if you can imagine a fried garden lettuce spontaneously, but i can tell you, it is fantastic. it has the good flavor and crunchiness of breaded and fried food outside. and at the same time you have the fresh and crisp flavor of a lettuce inside. in addition, the contrast of a hot and cooked meal outside and the freshness of cold food inside is really great.
the recipe is from the cookbook heimatkueche again. we had some difficulties with the description of cutting the lettuce hearts in slices. so we made our life easy and just halved the lettuce hearts once lengthwise and it worked very well.
remoulade sauce:
2 shallots
1 hard boiled egg
2 pickled cucumbers
1/2 bunch of parsley
1 tbsp capers
2 anchovy filets
1 bunch of chive
250 g mayonnaise
150 g crème fraîche
salt
cayenne pepper
1-2 tsp lemon juice
fried garden lettuce:
2-3 heads garden lettuce
2 eggs
pepper
flour
150 g bread crumbs
100 g clarified butter
to make the remoulade sauce finely cube the peeled shallots, the pickled cucumbers and the peeled eggs. wash, dry and chop the parsley and the chive. chop as well the anchovy filets and the capers. combine all those prepared ingredients with the mayonnaise and the crème fraîche. season to taste with salt, pepper and lemon juice.
wash the heads of garden lettuce and shake until dry. remove the outer loose leaves (put aside as you can use them for a normal salad) and halve the lettuce lengthwise. whisk the eggs. add the flour on a plate and season with salt and pepper. place the breadcrumbs on a plate as well. dredge the lettuce slices in some flour first, then put them in the whisked eggs and finally in the bread crumbs.
heat the clarified butter in a large frying pan and once it is really hot, fry the lettuce slices for about half a minute each side until they turn nicely golden. place them on a kitchen towel to drip off the remaining oil. serve with the remoulade sauce and some cooked potatoes.
a crisp glas of gruener veltliner or vinho verde would fit perfectly to this dish. enjoy!