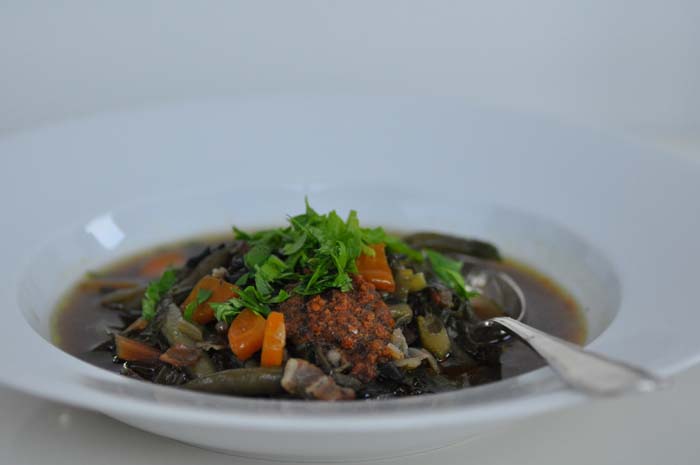 at the end, minestrone is nothing else than a walk through the garden picking every ripe vegetable and cook them all at once. the great thing about these kind of soups is that you are not bound to the ingredients of the recipe as you can take everything you like or you simply take what you have at home or in your garden. you will find this kind of vegetable soups in every kitchen of the world. this italian minestrone is for me one of the most tasteful versions. it has such an aromatic flavor because of all the sun-kissed summer vegetables.
so i cooked the minestrone with the following vegetables. and the bacon and the red pesto complete the flavor perfectly.
25 g dried mushrooms
1 onion
2 gloves of garlic
50 g bacon
1 courgette
1 carrot
2 stalks celery
100 g peas
100 g french beans
200 g chard
100 ml olive oil
1 tbsp thyme
1 tbsp oregano
about 1 liter water
salt
pepper
red pesto
parsley
before you start to cook you have to soak the mushrooms in warm water. then cut the onions, the  garlic and the bacon into cubes. clean the vegetables and cut them the size you prefer. keep some of the celery greens because you will need them later. you have to blanch the beans for about five minutes before you finally can start.
heat the olive oil in a large pan and saute onions, garlic, thyme and oregano. just before they get brown, add the vegetables and saute as well. after a few minutes add the water. roughly chop the mushrooms and add them, together with the soaking water, to the other ingredients. let it simmer for about one hour.
season to taste before you serve the soup. serve the soup with chopped celery greens and parsley and a teaspoon of red pesto per portion. offer some good white italian bread if you like.
the problem is, that you might want to cook a lot of this soup, due to the long preparation time. but the soup is best on the first day, as already on the next day, all the vegetables will taste the same. so i recommend to invite some friends and set up a long table in the shade of a tree in your garden or the next park …