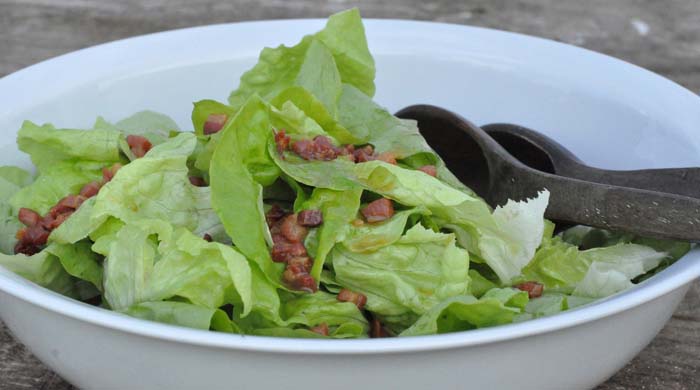 it is incredibly good to have a really fresh garden lettuce from your own field or a really good farmer. it is more crunchy than you ever thought a lettuce could be and it tastes more intensive than all the ones from the supermarket. my mom is still crazy about the garden lettuce my grandmother had in her garden. so i am very happy to have a lucky hand with them as well.
this salad is an upper austrian classic and as simple and quick as an old farmers recipe should be. the crunchy and warm bacon fits surprisingly well to the fresh green garden lettuce. this dish is ideal as a side or a light lunch.
one garden lettuce
50 g cubed bacon
wine vinegar
wash the garden lettuce and reduce to smaller pieces. put the bacon cubes into an pan and fry until crisp and golden. if the bacon is very lean, add a bit of oil. when the bacon is ready, remove the pan from the heat and add a few tbsp vinegar to the still hot bacon. i can´t give you a concrete amount here. it depends on your liking, if the dressing is not sour enough just add some more vinegar. so just start with less and find out your perfect mixture.
that´s it. i very much like the garden lettuce with bacon dressing together with a piece of bread with some salted butter. i hope you will enjoy it too.