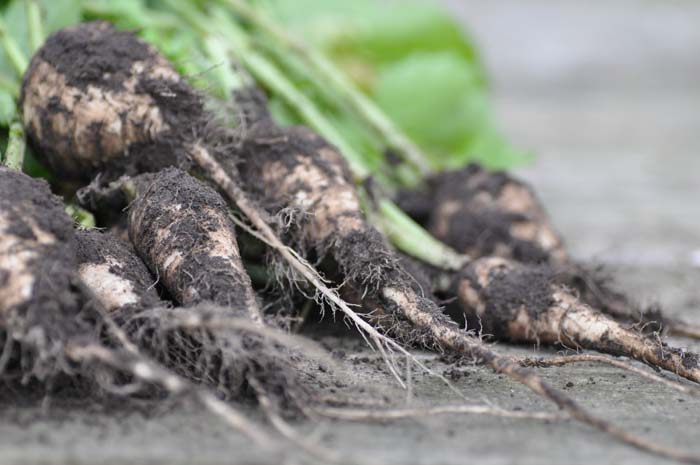 may i introduce, teltow turnips. for all of you who never ever heard about them, they are a speciality of the german region brandenburg, in particular of the city teltow. yes you are right, turnips grow everythere, but these kind of turnips grow particularly well in this region because of the sandy-clayey soil. during the times of socialism they almost passed out of mind because they have not been adapted to the mass methods of the cooperative farming. nevertheless they survived in allotment gardens. thanks to the ongoing trend of regional and seasonal food and cooking they are having a sort of comeback in the past years – at least in berlin gastronomy. nevertheless, even in this region it is not that easy to find them – even on weekly markets. therefor, if you have the possibility, it is really worse to grow teltow turnips by yourself.
they have a very typical flavor like a mixture of potato, parsnip and maybe a little bit of radish.
growing teltow turnips is not complicated at all. sow them in rows in early spring with a distance between the rows of 20 cm. later you have to thin them out to distance of about 10 cm in the rows. they are ready to harvest in may or june. they should not be taller than 5 cm.