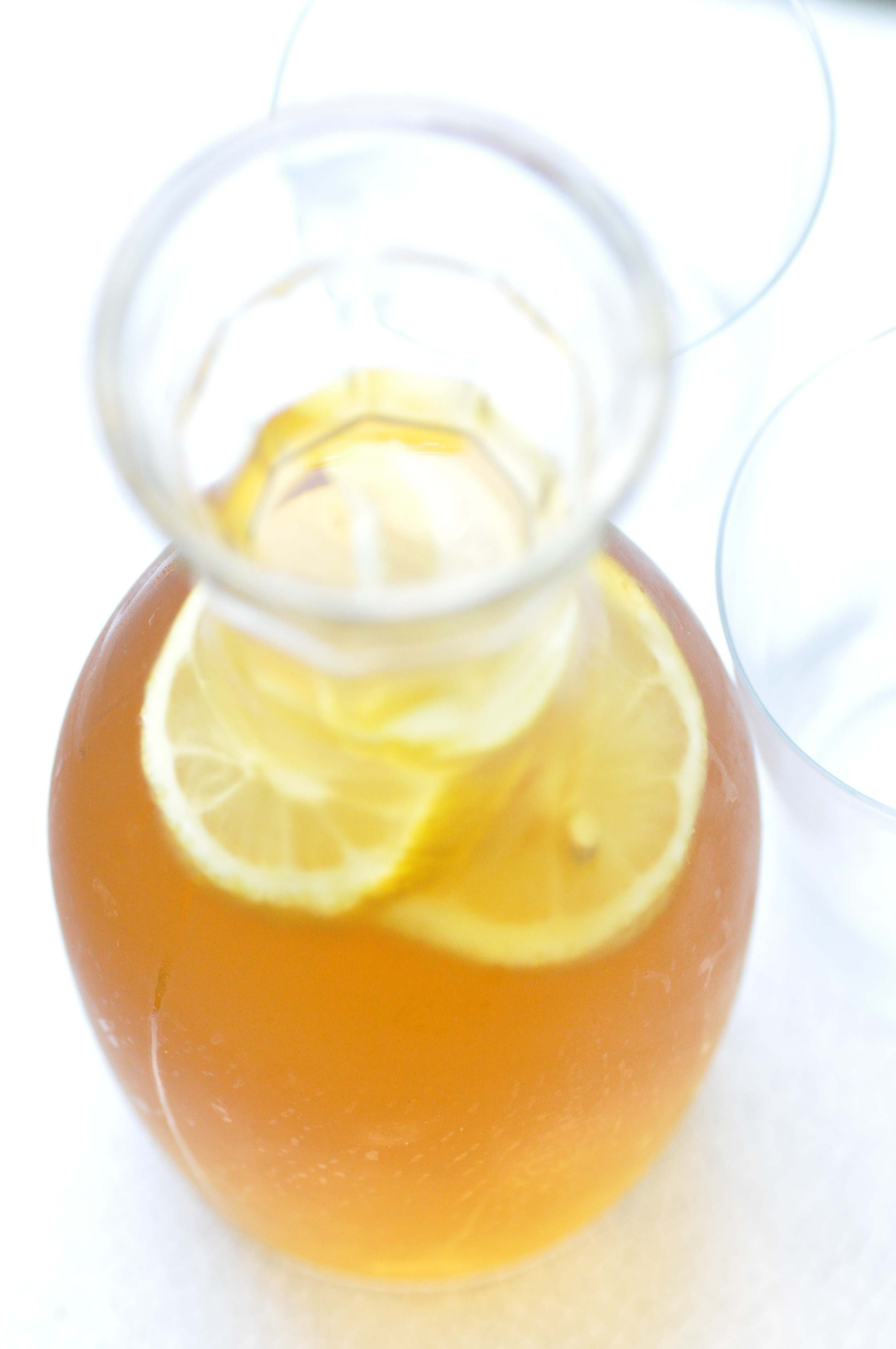 we recently had really hot days with up to 38° C here in germany, where the best places to be have been the beach, the shadow of some trees or the swimming pool. but even when sitting on your balcony, everybody needs something refreshing, something very cold to drink. like ice tea.
but everybody who associates ice tea with that sweet and sticky stuff you can buy in tetra packs is completely wrong. this homemade ice tea is much better than that. it is a combination of herbal tea, lemon juice and the flowery sweetness of elderflower syrup. refreshing instead of sticky sweet and so delicious that you will not be able to stop drinking until all your ice tea will be finished.
so hopefully you did not miss making elderflower syrup this year. but for sure you will find also some in your grocery.
stay cool and enjoy the summer!
2 tea bags herbal tea (or other tea of your liking)
1 liter water
1/2 lemon
elderflower syrup
ice cubes (optional)
prepare the tea one day in advance, because it needs time to cool down to be really refreshing. once it is not warm any more, put the tea in the fridge over night.
when ready to serve, pour some elderflower syrup in a carafe. add the cold tea and ice cubes if you like. cut the lemon into thick slices. squeeze the juice into the carafe and add the lemon slices.
try if the ice tea already meets your taste and add more elderflower syrup or more lemon juice, depending how sweet or sour you like it.
enjoy!
********************
2 teebeutel kräutertee (oder nach geschmack auch andere teesorten)
1 liter wasser
1/2 zitrone
hollersaft/holunderblütensirup
eiswürfel (optional)
den tee am besten einen tag im voraus zubereiten, da er zeit braucht so kalt zu werden, wie es sich für einen eiste gehört. wenn er nicht mehr warm ist, am besten über nacht in den kühlschrank stellen.
kurz vorm servieren einen schluck hollersaft in einen krug geben, den tee dazugeben und wer mag eiswürfel. die zitrone in scheiben schneiden. die zitronen etwas ausdrücken, bevor der saft und die zitronen ebenfalls in den krug kommen.
je nach geschmack entweder noch mehr hollersaft oder zitrone hinzufügen.
lasst es euch schmecken!