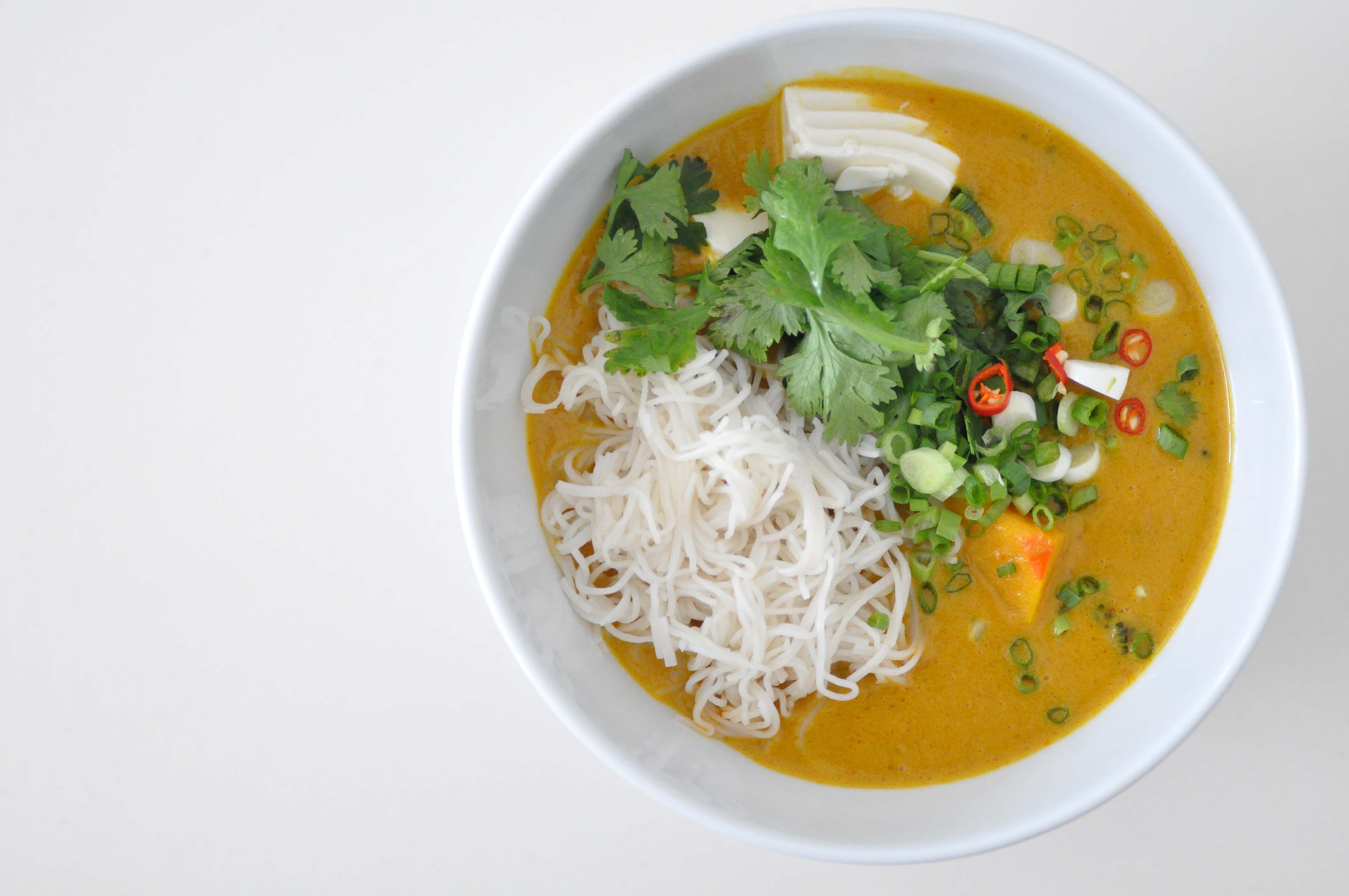 this yummy pumpkin curry is a super quick weekday dinner and so good when it gets cold outside. the curry and pumpkin are both real comfort food ingredients, the spiciness gives you a little kick and the nice color is quite the right answer to these dark and grey days out there.
the dish is so easy to prepare, that you do not really need a recipe. you only need a curry paste of your choice, the vegetable of your choice, some tofu and rice noodles and spring onions, coriander green and chili to garnish.
for 4:
1 tbsp oil
185 g curry paste
500 ml chicken stock
800 ml coconut milk
2 tbsp fish sauce
800 g pumpkin
400 g brokkoli, beans or other green vegetable
250 g vermicelli noodiles, cooked
300 g silken tofu
4 spring onions
1 handful coriander leaves
2 red chilies
peel the pumpkin and cut the pumpkin in bite sized pieces. clean the broccoli and roughly chop.
heat the oil in a large pan over high heat. add the curry paste and fry for one minute. add the stock, coconut milk and fish sauce and bring to a boil. add the pumpkin and cook for about 10 minutes until the pumpkin becomes tender. add the broccoli and cook for another two minutes.
in the meantime cut the tofu in small cubes. thinly slice the spring onions and the chillies.
divide the cooked vermicelli noodles between four bowls. pour over the curry soup and top with spring onions, coriander and chili.
enjoy!
*********************
für 4:
1 el öl
185 g currypaste
500 ml hühnerbrühe
800 ml kokosmilch
2 el fischsauce
800 g kürbis
400 g brokkoli, bohnen oder anderes grünes Gemüse
250 g vermicelli nudeln, gekocht
300 g seidentofu
4 frühlingszwiebeln
1 handvoll koriander
2 rote chili
den kürbis schälen und in mundgerechte stücke schneiden. den brokkoli putzen und grob in stücke schneiden.
das öl in einer großen pfanne erhitzen. die currypaste dazu geben und eine minute anrösten. auch die brühe, die kokosmilch und die fischsauce dazu geben und zum kochen bringen. den kürbis hinzufügen und etwa zehn minuten kochen, bis er weich ist. dann den brokkoli noch für wenige minuten hinzufügen.
in der zwischenzeit den tofu in würfel schneiden, die frühlingszwiebeln und chilis in dünne streifen schneiden.
die gekochten vermicelli nudeln auf vier schüsseln aufteilen. die currysuppe darübergeben und die frühlingszwiebel, chili und koriander oben drauf.
guten appetit!