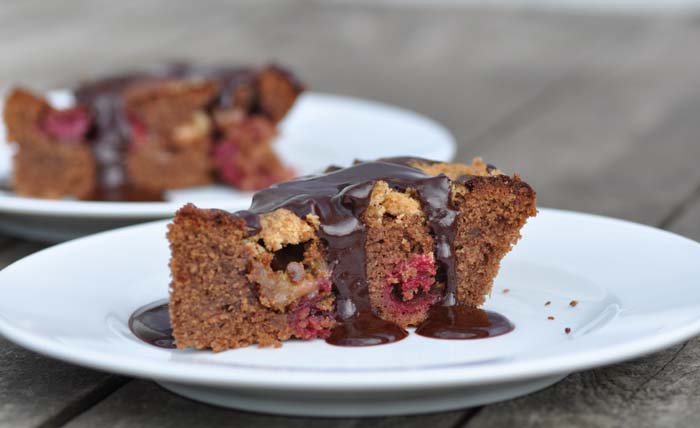 i don't know many fruits which i like to combine with chocolate, but sour cherries are made for chocolate! this combination is heaven, i promise. a chocolate cake with hot chocolate topping should be mouthwatering for all sweet teeth out there.
this recipe is with buttermilk which makes the cake very fluffy. and instead of baking cacao, as recommended in the recipe of sweetsugarbean, i took a bar of dark chocolate. so the cake does not turn out that sweet. and the sweetness will be in a very harmonious contrast to the sour cherries.
you will need only one or two hands of sour cherries. this amount you will find also on the youngest cherry tree. and if your cherry tree is very old and that's why it bears not many fruits, i strongly recommend to prune it, as we did.
anyhow, even with sour cherries from the market or supermarket this cake will make you happy.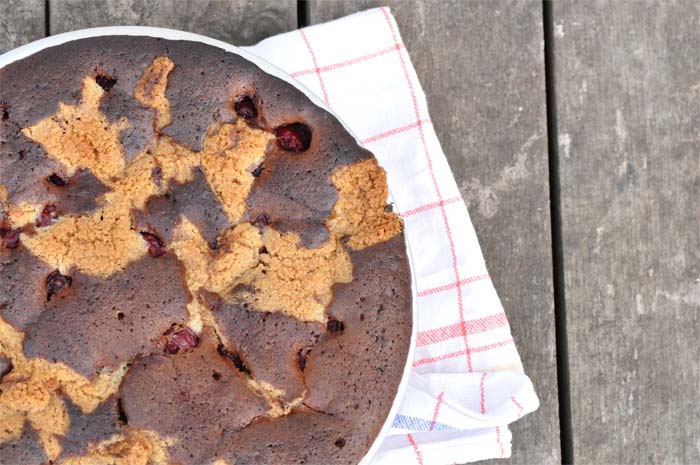 one last thing before you start to read the recipe. as the original recipe worked with cups i converted the amounts into grams. the amounts in gram will become a little bit odd by converting, so if you have cup measures take them.
330 g brown sugar (1 1/2 cups)
170 g soft butter (3/4 cup)
4 eggs
one package vanilla sugar
220 g flour (1 3/4 cups)
one bar dark chocolate, about 200 g
one package baking powder
1/2 tsp salt
260 ml buttermilk (1 cup)
1-2 handful of sour cherries
110 g brown sugar (1/2 cup)
3 tbsp flour
75 g soft butter (1/3 cup)
100 g dark chocolate
4 tbsp butter
preheat the oven to 175° C.
pour sugar, vanilla sugar and butter in a large mixing bowl and beat until fluffy. add the eggs, one at the time and continue beating. add flour, salt and baking powder alternating with buttermilk and continue beating until all ingredients are well combined.
melt the bar of chocolate in a bain-marie and stir in the dough.
wash the cherries and dry. you have to decide if you would like to deseed the cherries or not. i did not.
now you have to combine the remaining 110 g brown sugar, 3 tbsp flour and 75 g butter to prepare the crumble.
pour the dough in a buttered baking dish and sprinkle over the cherries and the crumble. bake for about 1 hour. it depends a bit on your baking dish and your oven. you can start to test after 45 minutes. just prick a wooden skewer in the cake and if there remains ready baked crumbs once you remove the skewer, your cake is done.
let it cool down before serving. and when ready to serve, melt the remaining chocolate and butter in a pan and while stirring continuously you will get an excellent chocolate topping which you can sprinkle over your cake.
enjoy!
********************
330 g brauner zucker (1 1/2 cups)
170 g weiche butter (3/4 cup)
4 eier
1 päckchen vanillezucker
220 g mehl (3/4 cup)
eine tafel dunkle schokolade, etwa 200 g
1 päckchen backpapier
1/2 tl salz
260 ml buttermilch (1 cup)
1-2 handvoll sauerkirschen
110 g brauner zucker (1/2 cup)
3 el mehl
75 g weiche butter (1/3 cup)
100 g dunkle schokolade
4 el butter
den ofen 175° C vorheizen.
zucker, butter und vanillezucker in eine rührschüssel geben und cremig schlagen. nacheinander die eier dazu geben und weiter rühren. mehl, salz und backpulver abwechselnd mit buttermilch hinzugeben und weiter rühren.
die schokolade in einem wasserbad schmelzen und in den teig rühren.
die kirschen waschen und abtrocknen. wenn gewünscht, die kirschen entsteinen. wir haben das nicht gemacht.
für die streusel die restlichen 110 g zucker, 3 el mehl und 75 g butter cremig rühren.
den teig in eine gebutterte backform geben, kirschen und streusel darüberstreuen. eine stunde backen. die backdauer hängt auch ein bisschen von der backform und vom ofen ab. nach 45 minuten backzeit kann man schon mal testen, ob der kuchen fertig ist. dazu mit einem holzspieß in den kuchen stechen und wenn der daran klebende teig trocken und krümelig ist, ist der kuchen fertig.
vor dem servieren auskühlen lassen. und wenn es dann soweit ist, die restliche schokolade und butter in einer pfanne unter ständigem rühren schmelzen. es ensteht eine traumhafte schokoladensauce, die man über den kuchen geben kann.
viel vergnügen!