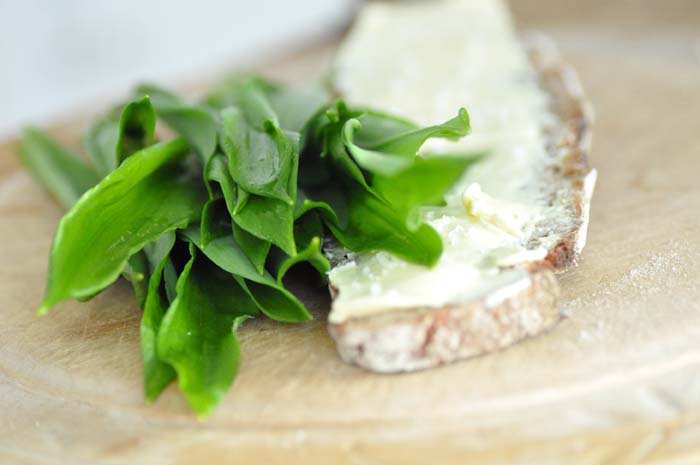 finally it is spring! and bear´s garlic is the very first edible forerunner of the beginning gardening season. it is the very first green, even before stinging nettles starts to grow. i was waiting for weeks to drive to my bear´s garlic place and to harvest. and the first thing i did with this years bear´s garlic was the most simple thing you can imagine.
as we will be moving shortly, it is not the time for long preparations this year. instead of preparing bear´s garlic butter as i did last year i simply had a slice of bread, butter, salt and roughly chopped bear´s garlic.
so the most simple things are quite often the best. all you need is a good quality sourdough bread, fresh butter, fleur de sel or maldon sea salt and a lot of bear´s garlic. spread the butter on a slice of bread, sprinkle over some salt, roughly chop the bear´s garlic and set it on the top of your buttered slice of bread. i strongly recommend a glass of beer to accompany to this very savory snack.
enjoy and cheers!
********************
die einfachsten dinge sind oft die besten. alles was man braucht ist ein gutes sauerteigbrot, frische butter, fleur de sel oder maldon sea salt und eine ganze menge bärlauch. das brot mit butter bestreichen, mit salz bestreuen, den bärlauch grob hacken und auf das butterbrot legen. unbedingt empfehlenswert ist zu diesem sehr herzhaften snack ein glas bier.
guten appetit und zum wohl!
mehr inspiration zu bärlauch gibt es hier im gaertnerblog.