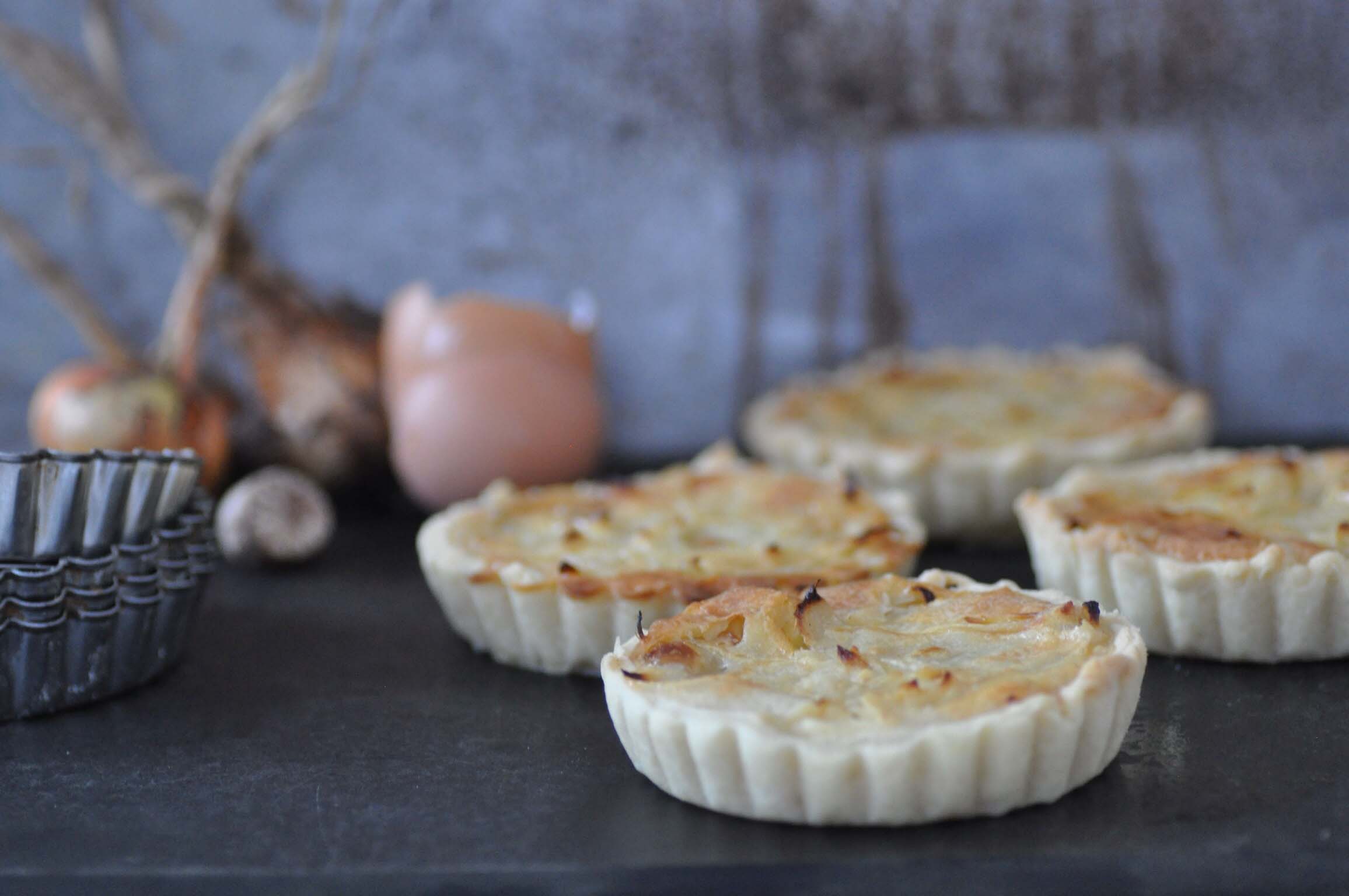 while searching for alternative cheese for my lamb´s lettuce with marinated cheese recipe, i found a food blog event on alsatian cuisine in the web. while i was not really sure, if this salad has alsatian origins,  i am sure with respect to the tarte à l'oignon. in its rustic, distinct taste while being very subtle at the same time, this tarte is very characteristic for alsatian cuisine which is german and french at the same time.
as onions are one of the classic storable vegetables, tarte à l'oignon is a typical autumn and winter dish. harvested in summer, and if the storage conditions are fine, they should still be fine. while in the beginning, almost the whole door of our cellar hang full of onions, there are unfortunately only a view left.
but for this dish it is no waste to invest a large amount of onions. it is super delicious and once done, you can enjoy the tarte also the next day once more. its an ideal dish that can be prepared in advance and rewarmed. put it in the preheated oven for five minutes before serving and it tastes just as freshly baked.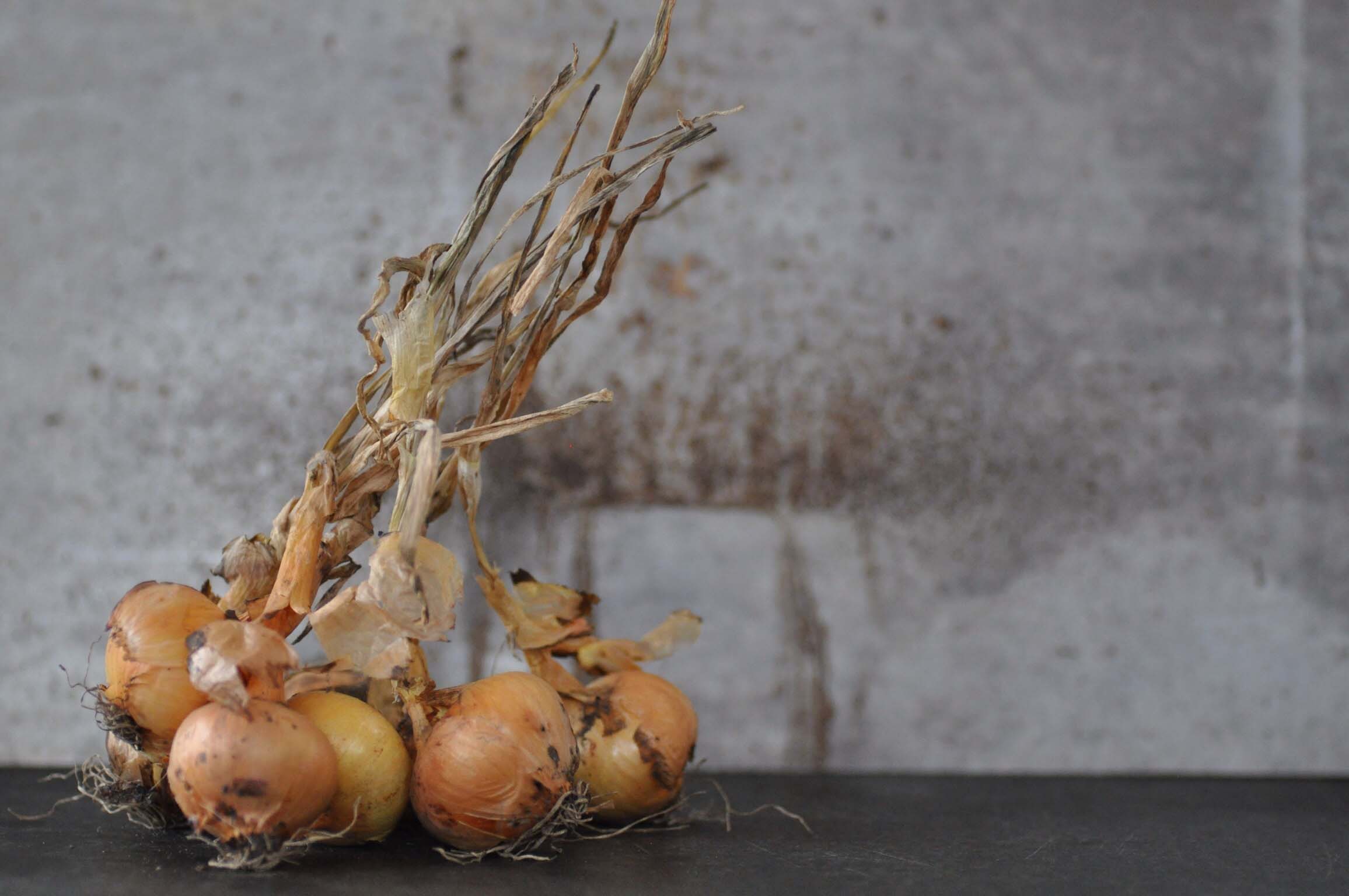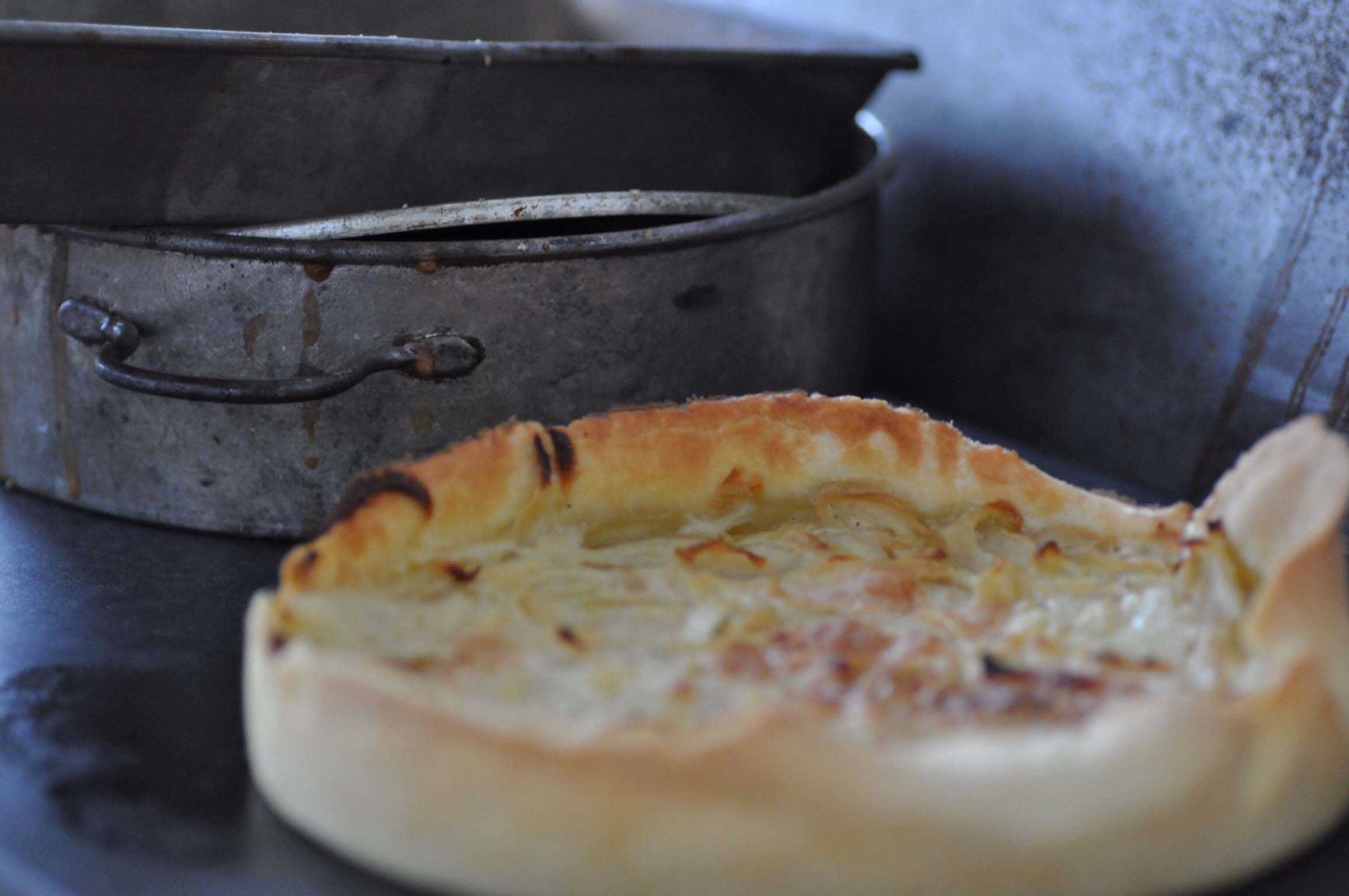 short pastry:
125 g butter (room temperature)
250 g flour
2 pinches of salt
2-3 tbsp water
topping:
600 g onions
2 eggs
150 ml milk
2-3 tbsp crème fraîche
60 g flour
grated nutmeg
salt
pepper 
to prepare the pastry, combine the butter, flour and salt. if they are well combined and crumbly, add the water tablespoon by tablespoon while kneading the dough. you will see when it is enough water. if you have a compact, non sticky pastry, form a ball out of it, wrap in cling film and let it rest in the fridge while preparing the topping.
now you have to peel all the onions. cut them in thin wedges and sauté them with a little bit of butter over slow heat until they are soft but not brown. this will take about 10-15 minutes.
in the meantime you can combine the eggs, milk, crème fraîche, flour, nutmeg, salt, and pepper. this mixture can be a bit salty, as you do not season the onions. 
preheat the oven to 180° C. grease the tarte forms, roll the pastry and place into the form. pour over the onions mixture and finally pour over the egg-milk mixture.
bake the tartes for 20 minutes at 180° and 10 more minutes at 200° C. allow to cool down for 10 minutes before serving, as they are very hot inside.
serve them with a green salad and some alsatian wine such as pinot noir or pinot blanc.
bon appétit!
********************
mürbeteig:
125 g butter (zimmerwarm)
250 g mehl
2 prisen salz
2-3 el wasser
belag:
600 g zwiebeln
2 eier
150 ml milch
2-3 el crème fraîche
60 g mehl
geriebene muskatnuss
salz
pfeffer 
vermische für den teig butter, mehl und salz miteinander. wenn das ganze gut vermischt und bröselig ist, werden 2-3 esslöffel wasser dazugegeben, damit ein kompakter teig entsteht. gib einen esslöffel nach dem anderen dazu und verknete alles gut miteinander. du wirst merken, wenn genug es genug wasser ist. der teig ist perfekt, wenn er sich zu einem kompakten ball formen lässt und nicht klebrig ist. dann in frischhaltefolie wickeln und im kühlschrank ruhen lassen, bis alle folgenden zutaten vorbereitet sind.
nun müssen alle zwiebeln geschält und in dünne spalten geschnitten werden. dann werden sie in einer großen pfanne mit etwas butter langsam, bei geringer hitze weich gedünstet. sie sollten dabei nicht braun werden. das dauert etwa 10-15 minuten.
in der zwischenzeit können eier, milch, crème fraîche, mehl, muskatnuss, salz und pfeffer vermengt werden. die mischung kann ruhig etwas salzig sein, da die zwiebeln nicht gewürzt werden.
ofen auf 180° C vorheizen, tarteformen buttern, teig ausrollen und in die tarteformen einpassen. gib dann die zwiebeln darauf und gieße zum schluss die eier-milch mischung darüber.
nun werden die tartes 20 minuten bei 180° C und weitere 10 minuten bei 200° C gebacken. lass sie vor dem servieren etwa 10 minuten auskühlen, weil sie sehr heiß sind.
serviere sie mit etwas grünem salat und einem elsässischen wein, zum beispiel pinot noir oder pinot blanc.
bon appétit et santé!