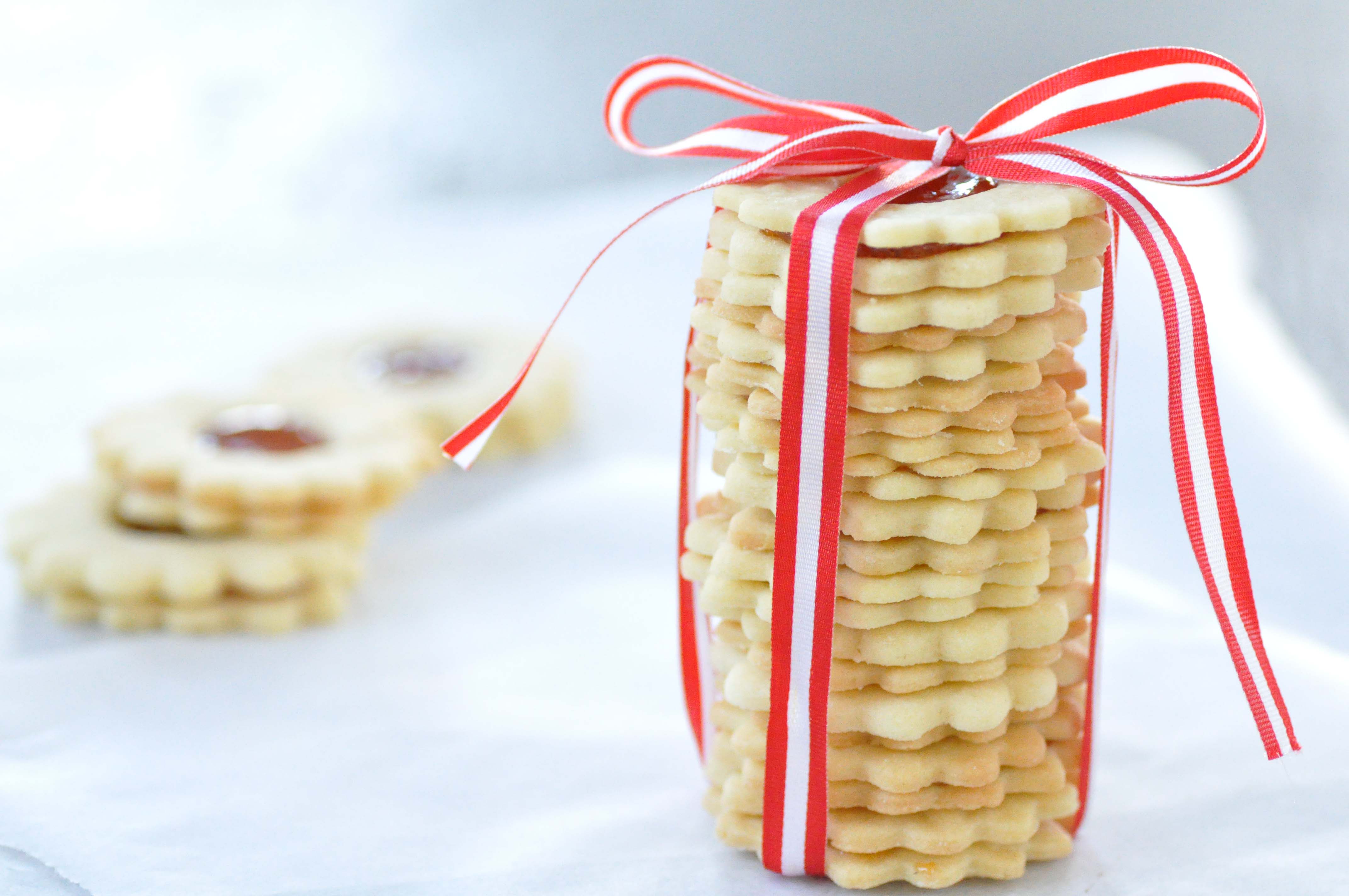 advent season to me is the time to prepare christmas cookies, pralines, chocolate barks, caramelized almond barks and all the great stuff you will have only once a year – for christmas. and as they are not only tasty but as well very pretty, they are ideal gifts for friends and family.
every year i try something new. but there are as well some cookies and biscuits which have a tradition and are a must every year, such as the "linzer augen". i love them! the cookies are super fine, short and the filling fruity.
this recipe is from a small self-made cookbook, one of our nephews prepared in school and gave us for christmas some years ago. it was in the second school year, when they all were beginners in writing. every child brought one christmas cookies recipe from home and they wrote it by hand and painted some illustrations. very cute and lovely.
so our nephew brought a recipe for "linzer augen". originally they are filled with red currant jam or jelly (in this point opinions differ). my version is with apricot jam, as we did not have enough red currant yet, to cook some jam. the apricot jam is from the harvest two years ago, where we had more apricots than we could eat. we preserved them by making jam with real sugar instead of jam sugar. the procedure is the same, but takes more time to cook. but the payoff is, that you can store it for years without loosing its quality at all, while the jam make with jam sugar will be best for a few months only. for my taste the apricot jam was too sweet to eat it with bread or buns. but to fill cookies or cakes it is perfect.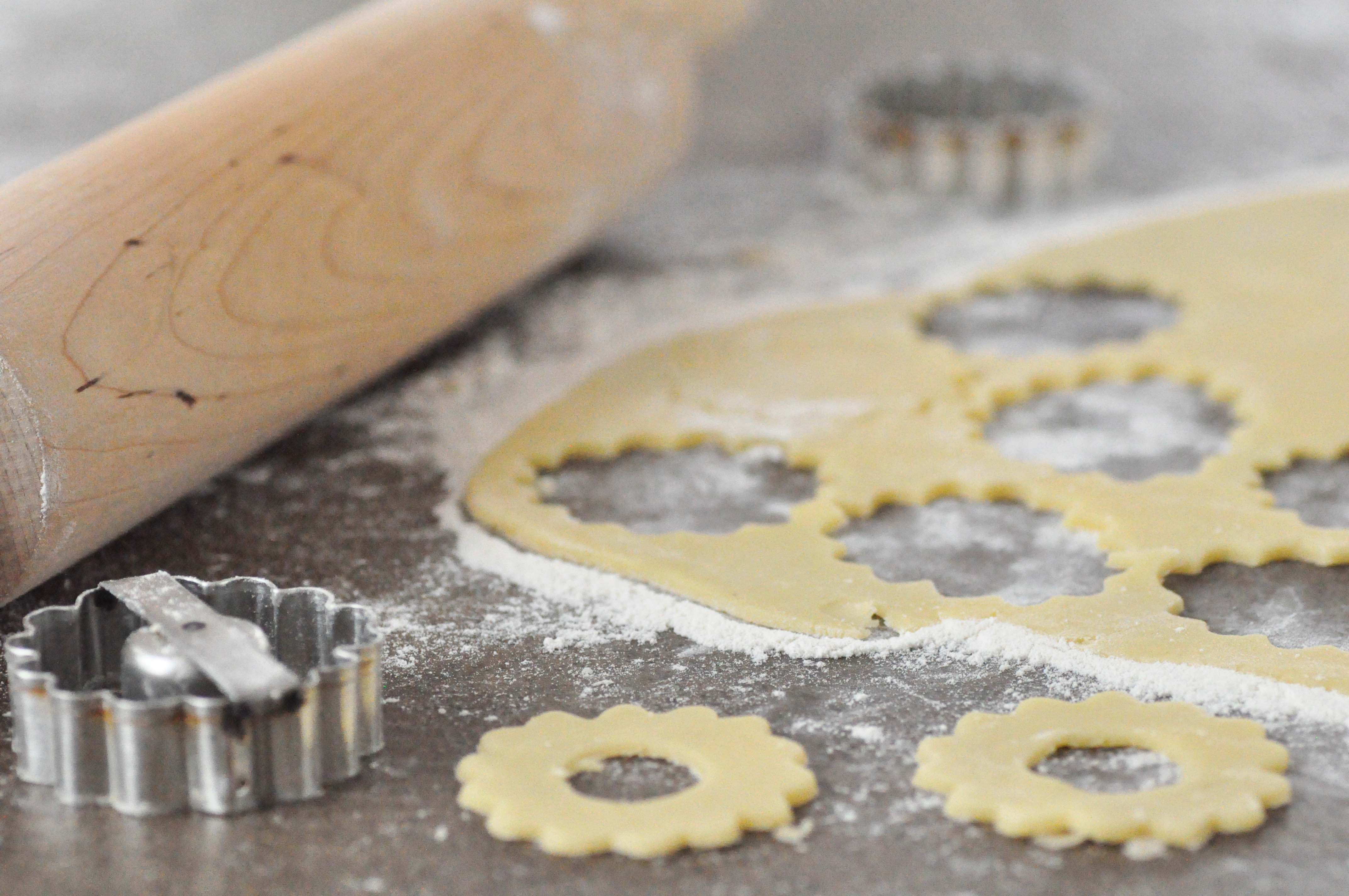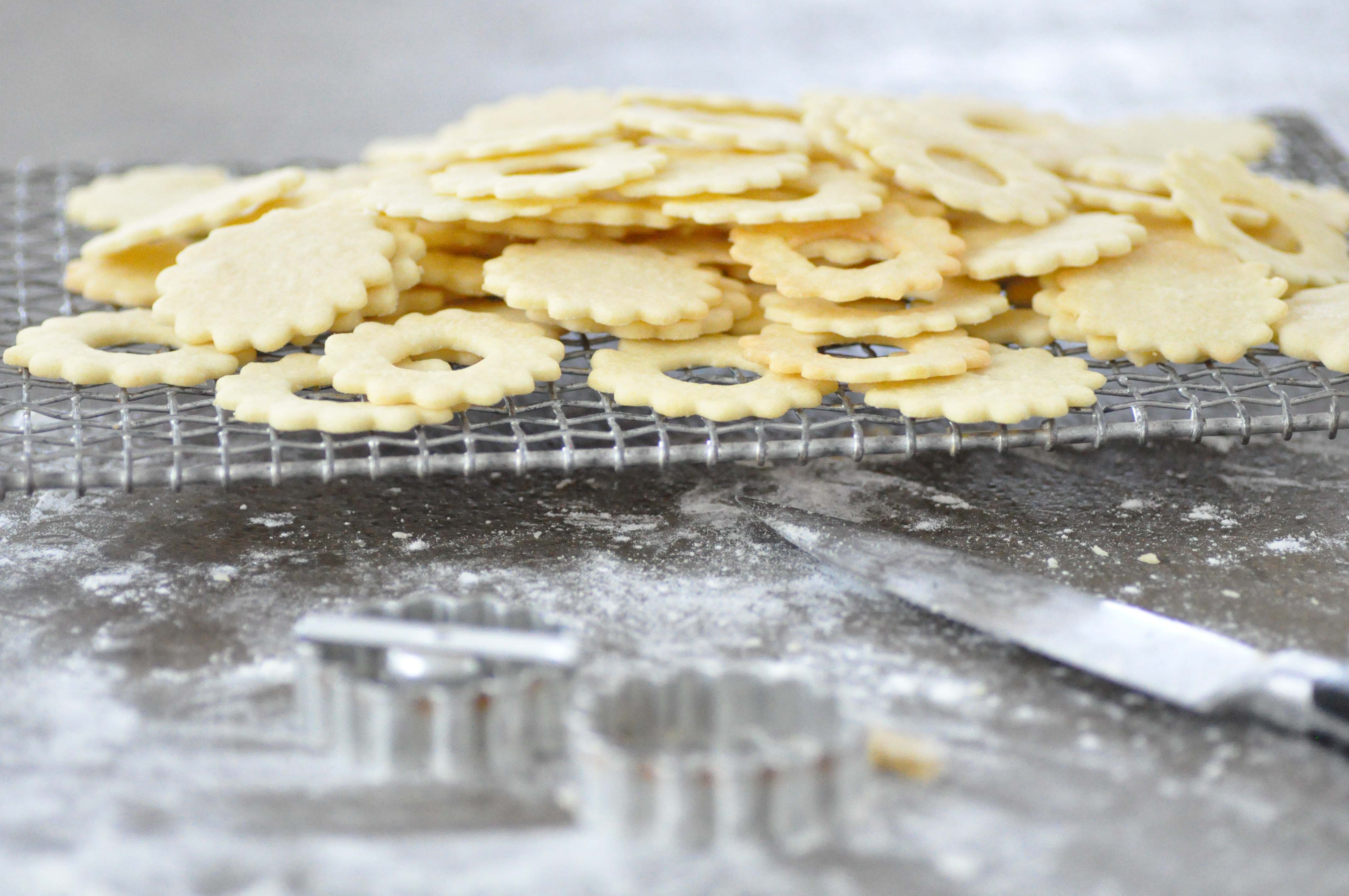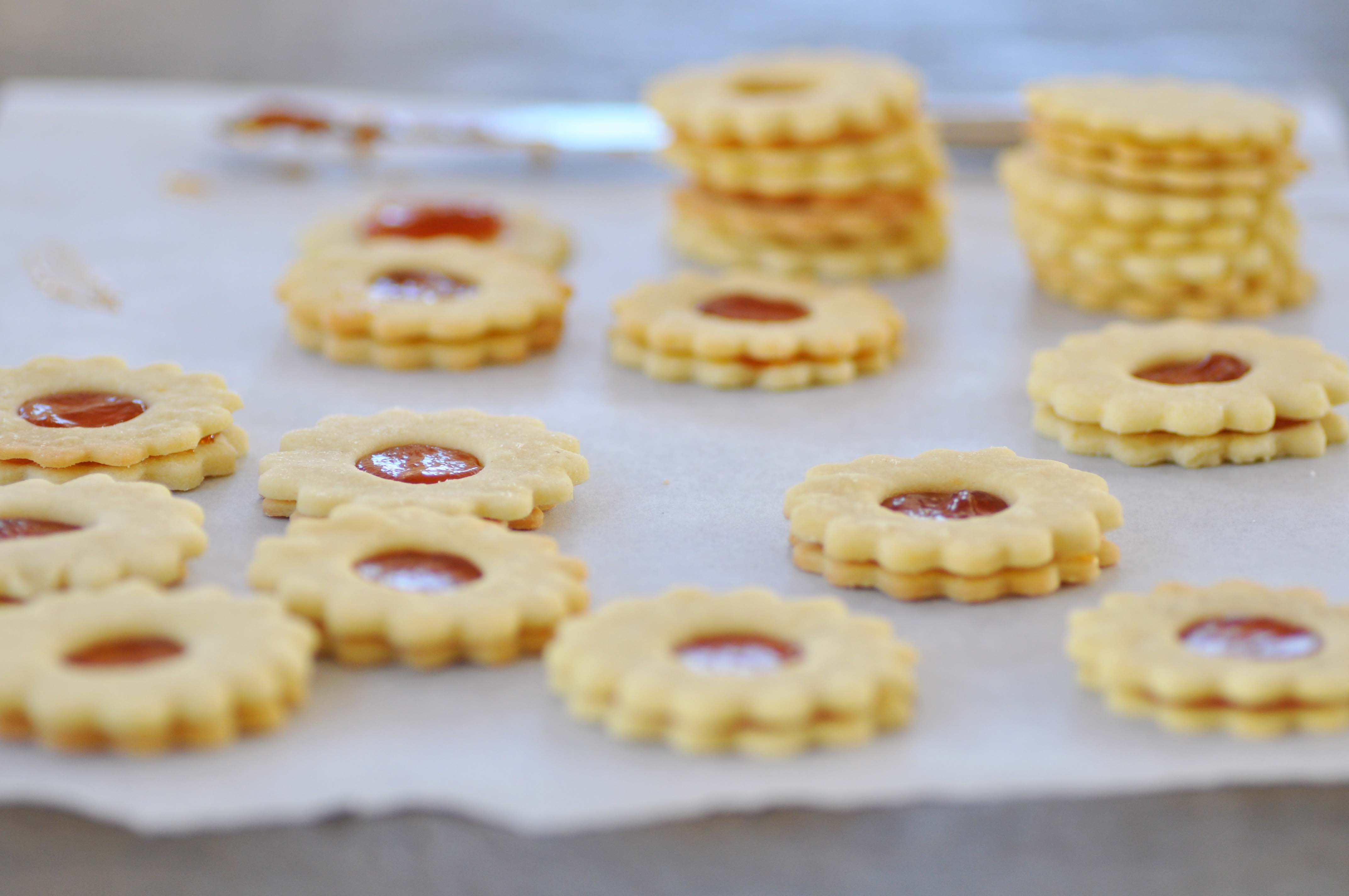 300 g flour
200 g butter
100 g icing sugar
1 package vanilla sugar
1 egg
zest of one lemon
pinch of salt
combine the flour and the very soft butter. add the sieved icing sugar, vanilla sugar, lemon zest, the egg and salt and knead to a compact pastry. wrap it in some cling film and let it rest in the fridge for one hour.
quarter the pastry and always roll thinly one piece at a time. try to do it very thin as you will put two cookies together later. to cut out the cookies you need two round and fluted cookie cutter, where one of the two has a hole in the middle. if you don´t have this, help yourself with small glasses and other kitchen utensils to cut the cookies.
place the cookies on a baking tray, covered with baking paper. preheat the oven to 180° C and bake the cookies for 5-8 minutes. they shall stay light in their color, not golden. let them cool on  a cooling rack. once completely cooled down, fill them with jam. therefore set not more than half a teaspoon of jam on a cookie without a hole and set one with a hole on top. be careful not to break them.
let them dry for at least some hours on the cooling rack, before storing in boxes. otherwise they will stick together.
enjoy and have a great second sunday of advent!
*****************************************
300 g mehl
200 g butter
100 g puderzucker
1 päckchen vanillezucker
1 ei
schale einer zitrone
prise salz
mehl und weiche butter abbröseln. den gesiebten puderzucker, vanillezucker, zitronenschale, ei und die prise salz hinzufügen und zu einem teig kneten. in küchenfolie gewickelt für eine stunde im kühlschrank rasten lassen.
viertel den teig und rolle jeweils ein stück sehr dünn aus. versuche den teig so dünn auszurollen, wie es geht, da du später zwei kekse aufeinandersetzt. zum ausstechen brauchst du zwei rund, gewellte ausstecher, von denen einer ein loch in der mitte hat. solltest du so einen ausstecher nicht haben, hilf dir mit einem kleinen glas und anderen küchenutensilien stattdessen.
setze die ausgestochenen kekse auf ein mit backpapier ausgelegtes backblech. heiße den ofen auf 190° C und backe die kekse 5-8 minuten. sie sollten nicht golden werden, sondern schön hell bleiben. lass sie auf einem kuchengitter auskühlen. und wenn sie komplett ausgekühlt sind, kannst du sie füllen. streiche dazu auf einen keks ohne loch nicht mehr als einen halben teelöffel marmelade und setze einen keks mit loch oben darauf. sei vorsichtig, dass sie nicht zerbrechen.
lass sie mindestens für einige stunden auf dem kuchengitter trocken, bevor du sie in schachteln und dosen packst. sie würden sonst aneinander kleben.
viel spass und einen schönen zweiten advent!