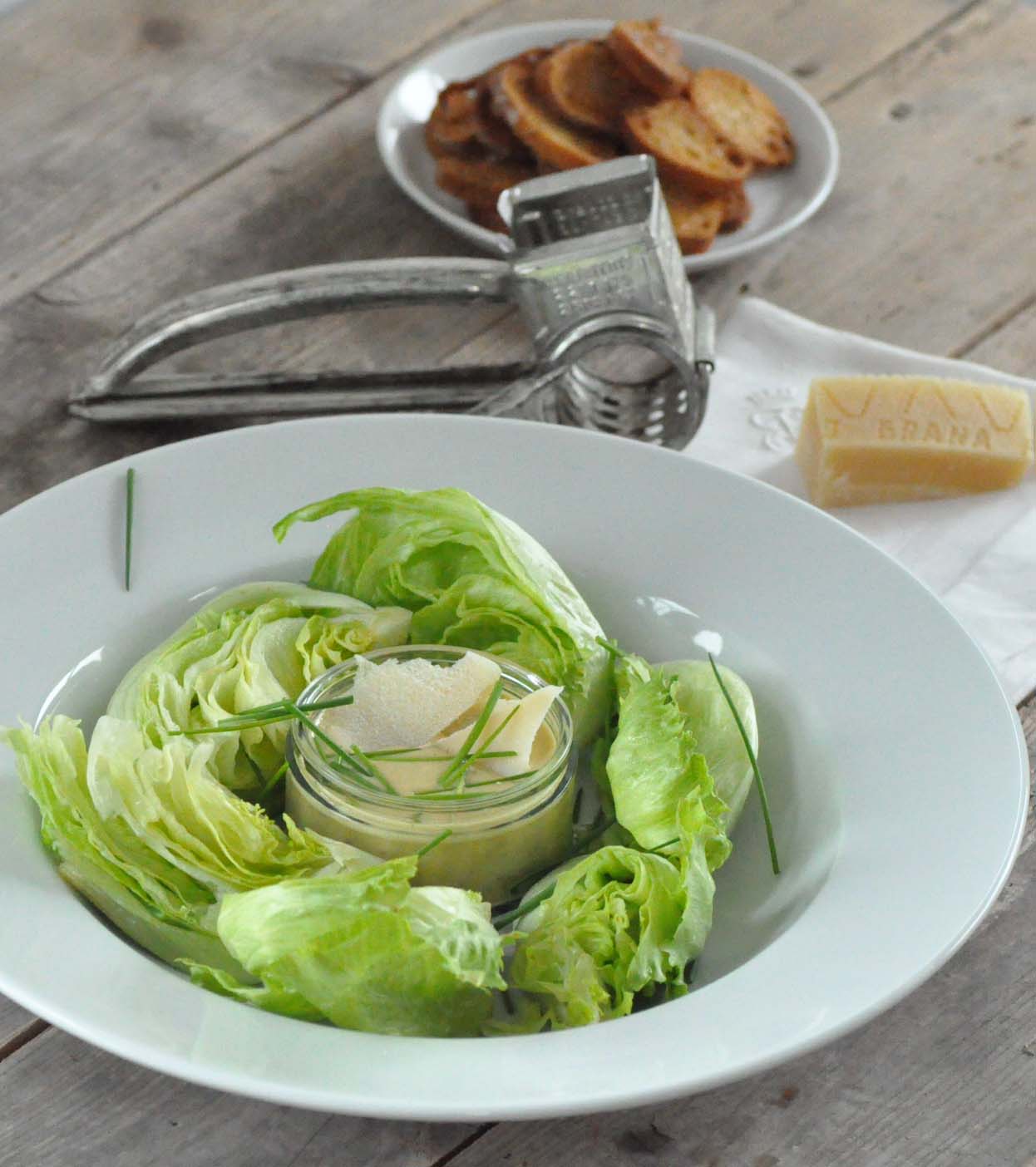 since i had the perfect caesars salad in my towns best pastrami deli, i am trying to find out how to make it by myself. maybe i simply will ask next time. until then, i am quite happy with this dressing.
i added the anchovies to the original cardini recipe. apart from that, i stick to the very traditional version, no chicken, no shrimps, only fresh and crunchy iceberg lettuce, as it is still growing on the field, and croutons.
2 garlic gloves, crushed
1/2 tsp salt
3/4 tsp pepper
4 1/2 tbsp shredded parmesan
6 tbsp olive oil
2 tbsp red wine vinegar
1/8 tsp worcestershire sauce
1 egg yolk
2 anchovies
iceberg lettuce
baguette or other white bread
roughly chop the garlic and the anchovies. than add all ingredients together in a high mixing bowl and blend. as i already described for the aioli with fish recipe, you simply have to set the blender on the bottom of the bowl, start and slowly lift the blender when it starts to thicken. set some parmasan aside before blending. it looses its texture when blended, but the shredded (!) parmesan is essential for this dressing! so mix in the parmesan at the end and your dressing is done.
if you have nice and firm lettuces i recommend simply to quarter them and place on the plates.
to prepare the croutons, thinly slice the bread, set on a baking paper lined baking tray and brush with some olive oil. sprinkle with salt if you like. grill in the oven until the bread turns golden.
to serve, pour the dressing over the lettuce, sprinkle over some more shredded parmesan and some chive. accompanied with some croutons and a glass of rosé wine.
enjoy and feel free to comment on your favourite caesars salad dressing! looking forward to some inspiration.