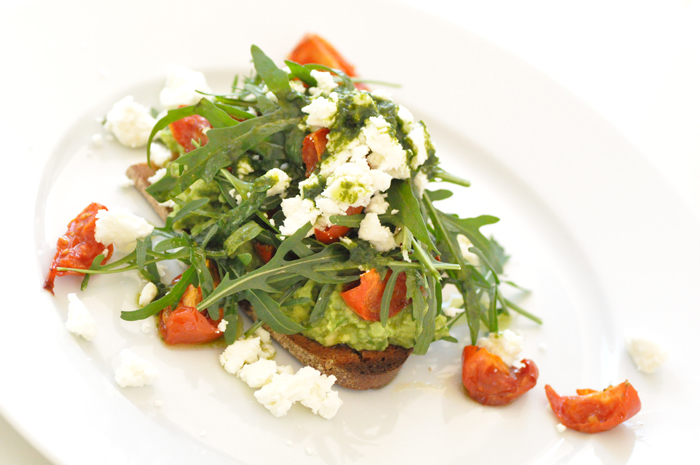 this is exactly as good as it looks like. slowly roasted tomatoes with avocado and feta cheese topped with rucola and some basil oil. ambrosial!
i can have it again and again and again. in summer i had it simply with fresh tomatoes. now, in autumn, the slow roasted tomatoes are a very tasteful method to preserve the summer aroma a little bit longer and to have this dish even after the high season.
despite the avocado, which unfortunately would not grow in our region, you can grow the ingredients already on the smallest balcony. but if at some stage we would move to another climate zone, i would have an avocado tree! for sure! i really love avocados.
following jamie oliver (magazine yearbook 2010/2011), this dish is an australian breakfast. well, i prefer it for lunch.
how to roast the tomatoes you will find here.
for one person you will need:
one slice of bread
roasted tomatoes
half avocado
juice of a half lemon
small hand full of rucola
50 g feta cheese
some basil leaves
olive oil
salt and pepper
mash the avocado and combine immediately with the lemon juice. season with salt and pepper.
to prepare the basil oil, wash the basil, dry and put with some salt in a mortar. grind up the basil and add some olive oil.
wash the rucola and spin dry. roast the bread.
put the roasted bread on a plate. place the mashed avocado on it, top with the roasted tomatoes and rucola. sprinkle over some crumbled feta cheese and drizzle over the basil oil.
i hope you will like it, regardless what the time of day.