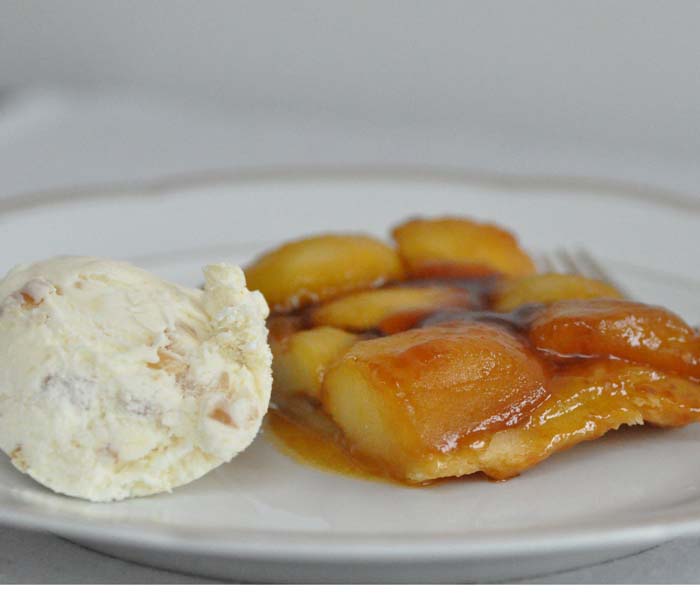 tarte tatin de pomme is an absolute classic of french bakery but in every variation a new pleasant surprise. this tarte tatin pastry is made with goat cheese and served with ginger ice cream. both gives the traditional tarte an extra drive.
maybe you know the excellent combination of the sweet apples and the lightly sour crème fraîche or crème double. in this recipe the goat cheese gives the contrast. in addition, the ginger ice cream adds some spiciness.
the idea of this superb combination is not mine, unfortunately. i adapted it only to some extent. i discovered it in the kochhaus shop, which sales recipes together with corresponding ingredients. they describe themselves as a walkable cookbook, which i really like. maybe you know this kind of shops from your towns too.
4 apples
160 g butter
120 g goat cheese
2 tbsp vanilla sugar
180 g flour
80 g sugar
ginger ice cream
to make the pastry, combine 120 g of the butter, the goat cheese, vanilla sugar and flour. knead to a compact dough. wrap it with cling film and let it rest in the fridge for 15 minutes.
preheat the oven to 180° C.
peal and quarter the apples and remove the core. pour the sugar in a frying pan and gently heat until it caramelizes. add the remaining butter and then the apples. cook them until firm to bite. it depends on your apples how long this will take, but a few minutes only.
pour the caramelized apples into a tarte tin and arrange them with the parts you will see later faced down. roll out the pastry thinly and place it over the apples so that they are completely covered. bake for about 20-25 minutes until it starts to turn golden.
wait some minutes until you turn the tarte tin and drop out the tarte onto the service platter. the caramel and apple juice mixture will cool down a bit and become firm. if you are ready to turn out the tarte, place a plate onto the tarte tin and turn. if the tin is still too hot, take a kitchen towel for help. and if some apple pieces will stick on the tarte tin, don´t worry. it doesn´t matter, scrape off and place them on the matching parts of the tarte and flatten.
serve the tarte as long as it is still warm, together with the ginger ice cream. if you don´t have or don´t like ginger ice cream, some whipped lavender cream double would be fine as well.
and as the color of the tarte tatin de pomme is such a wonderful orange i hope all the followers and friends of highfoodality´s cookbook of colors will like it, too.