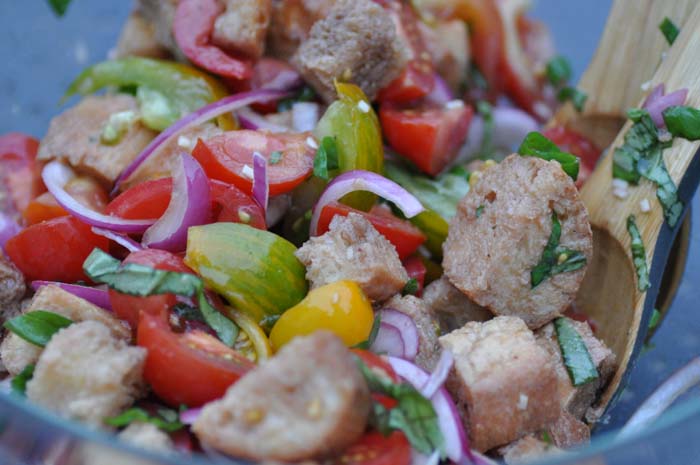 i simply love this salad! since years it is an evergreen on my plate and it is very easy. seasonal and regional tomatoes are the guarantee to pamper your plate!
it is such a long time ago that this salad appeared on my menu that in the meantime i invented my own version. panzanella most often is prepared with red wine vinegar. but in the very beginning of my cooking i had no red wine vinegar at home and took balsamico. since that time i like panzanella best in this version even though today i have a lot of different vinegars in the kitchen.
the following recipe is for two persons, but as it often happens with recipes you have cooked very, very often. the amounts become pretty vague. so try out how it turns out best for you.
about 500 g tomatoes
half of a ciabatta
one hand of basil leaves
a small red onion
12 tsp olive oil
2 tsp balsam vinegar
1-2 cloves of garlic
salt
pepper
wash the tomatoes and cut them into quarters or eights, depending on their size. cut the onion into slices. wash the basil and cut it in stripes.
most recipes recommend to take an old ciabatta, but i like it crunchy. so i put a fresh one in the oven before cutting it into cubes.
to prepare the dressing just mix the olive oil, vinegar, crushed garlic, salt and pepper. put everything in a large bowl, mix and allow to marinate for halve an hour.
it is the ideal summer dish and is perfectly accompanied with a glass of chianti.
enjoy the last summer days of this year! and if you are looking for more tomato recipes i recommend the gaertnerblog (german speaking), who hosted a gardening and cooking event on all about tomatoes in august, i participated too.