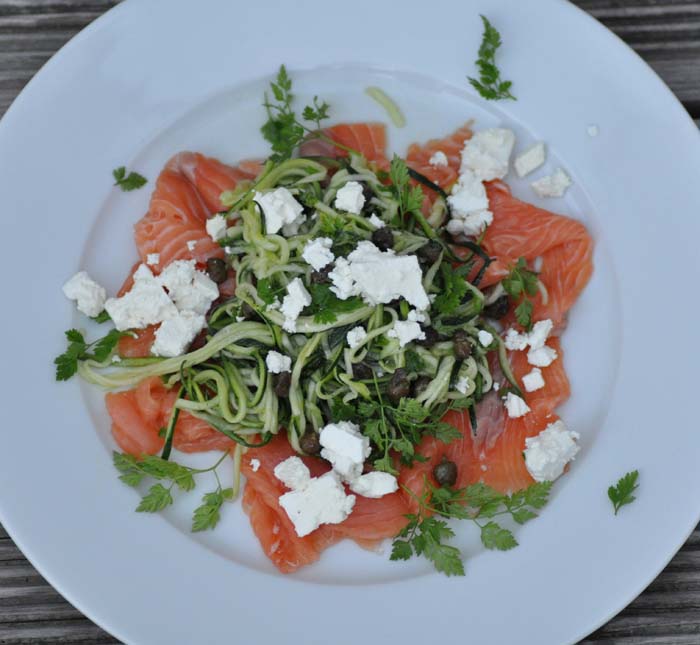 i just recognized that i did not post one single courgette recipe this season, even though   courgette is a really fast growing friend of the gardner. first courgettes will arrive in early summer and you can harvest until autumn. while most of the other vegetables will swamp you one time in the year and will disappear afterwords until next year.
the salmon and courgette salad with feta and chervil is one of my courgette favorites since i discovered it in the donna hay magazin. it is exactly what australian kitchen is famous for, a really great mixture of national cuisines. the japanese touch of the raw salmon and courgette, the european feta cheese, capers and chervil and some lemon zest is the australian icing on the cake.
it is an ideal dinner after a nice hot summer day!
for two you need:
2 salmon filets á 250 g (sushi-grade)
2 courgettes
1 tbsp salted capers
1 tbsp lemon zest
a small hand full chervil leaves
60 ml white wine vinegar
a good splash of olive oil
125 g feta cheese
salt
1/2 tsp sugar
if your fish filets have still their skin, you have to remove it first. the most easiest way to do so is in a hot frying pan. once the pan is really hot, put the fish, skin down, in the pan for not more than 30 seconds. remove the fish from the pan. now taking off the skin is a piece of cake. now cut the fish in slices as thin as you can. place them on the plates and cover with kitchen foil to let them rest in the fridge until you will be done with the remaining preparations.
the next step is to cut the courgette in very thin stripes. this will be most easy if you use a julienne cutter. rinse and drain the capers. heat 2 tbsp of the olive oil in a frying pan and cook the capers until crispy. drain the remaining oil on a kitchen towel before you place the capers together with the courgette, the chopped chervil leaves and the lemon zest in a bowl.
combine the remaining olive oil, vinegar, sugar and salt to prepare the dressing. pour it over the courgette mixture and let it marinate for about 5 minutes.
remove the salmon from the fridge and place the courgette mixture on top. finally sprinkle over the feta cheese and maybe some chervil leaves. enjoy and i hope you will like it as much as i do!