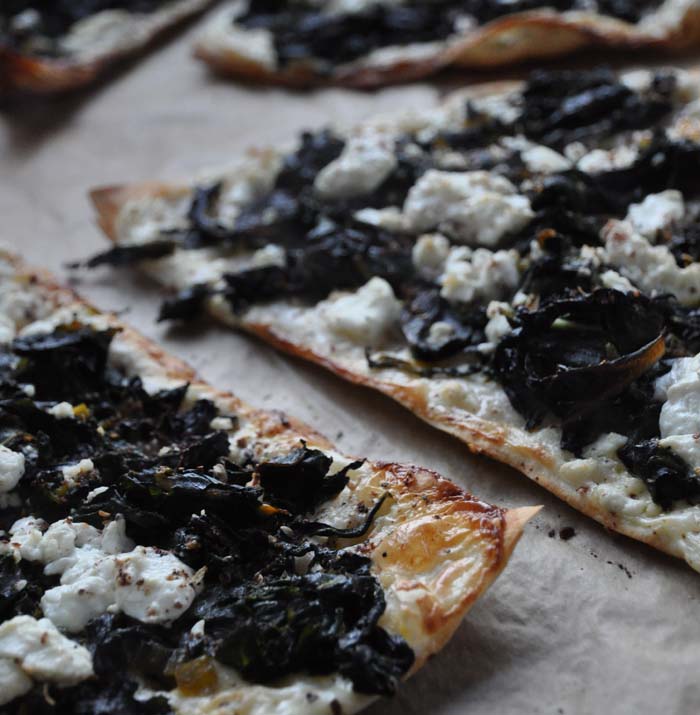 the idea of a chard tarte flambée was inspired by a recipe for spinach tarte flambée. but because we have tons of chard i tried this variation and if you once have prepared the chard it is a really quick meal and tastes fantastic.
in some regions you can buy tarte flambée pastry in the supermarket. if you can´t get it you can even use yufka pastry available at turkish or arabian supermarkets, as i did or even puff pastry works.
240g yufka pastry
60g butter
1kg chard
1 onion, diced
1 clove of garlic, diced
100g crème fraîche
150g feta cheese
salt
szechuan pepper
wash the chard and cut off the stalks. chop the chard roughly and set aside. sauté the onions and the garlic in about 20g of butter until soften but not brown and add the still wet chard. cover and let the chard wilt. season with salt and pepper and let it drain in a sieve.
preheat the oven to 200°C. melt the remaining butter. spread every single yufka pastry leave with some melted butter, put on top of each other and place on a baking tray.
put some crème fraîche on the last pastry leave and arrange the chard. spread with crumbeled feta cheese and szechuan pepper. 12 minutes in the oven and et voila you are ready to eat.
see how to grow your own chard