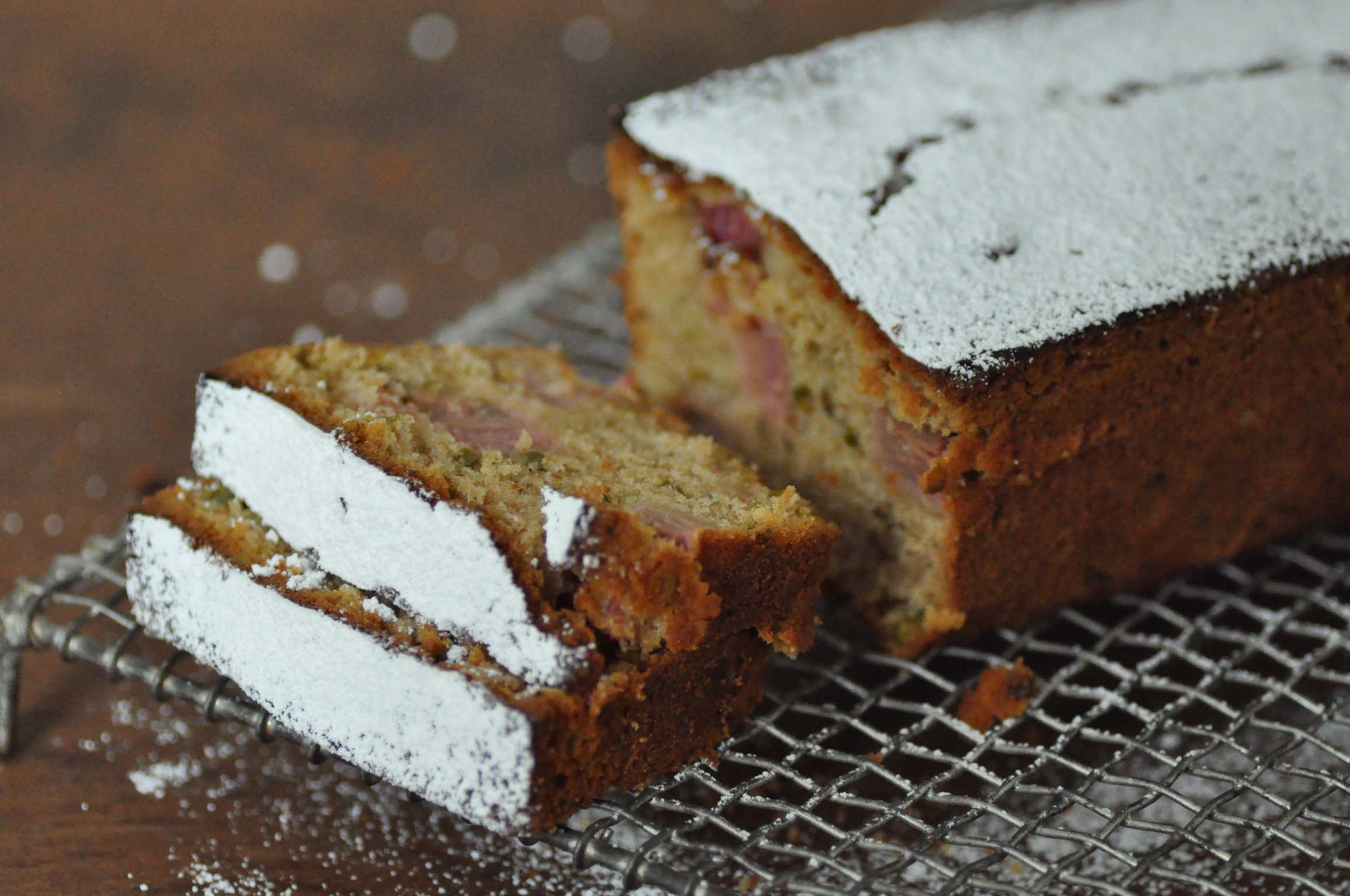 this recipe has a special relation with me as it is from a magazine that disappeared already twice for some time. so there was one rhubarb season when i was unable to bake it and feared that we have accidentially thrown the magazine away. but now it will be saved in the digital now for future seasons.
the recipe is from the german magazine lust auf genuss – the nordic summer kitchen volume, where you can discover many delicious things such as this finnish rhubarb cake. while flipping through the pages i got caught by a rhubarb chutney (which i planned to cook anyway these days) with fried herring, köttbullar – swedish meatballs – with gooseberries chutney and a swedish midsummer cake which sounds really good for all the berries that are getting ripe right now.
so let's start a little nordic food journey with this very delicious rhubarb cake with pistachios from finnland.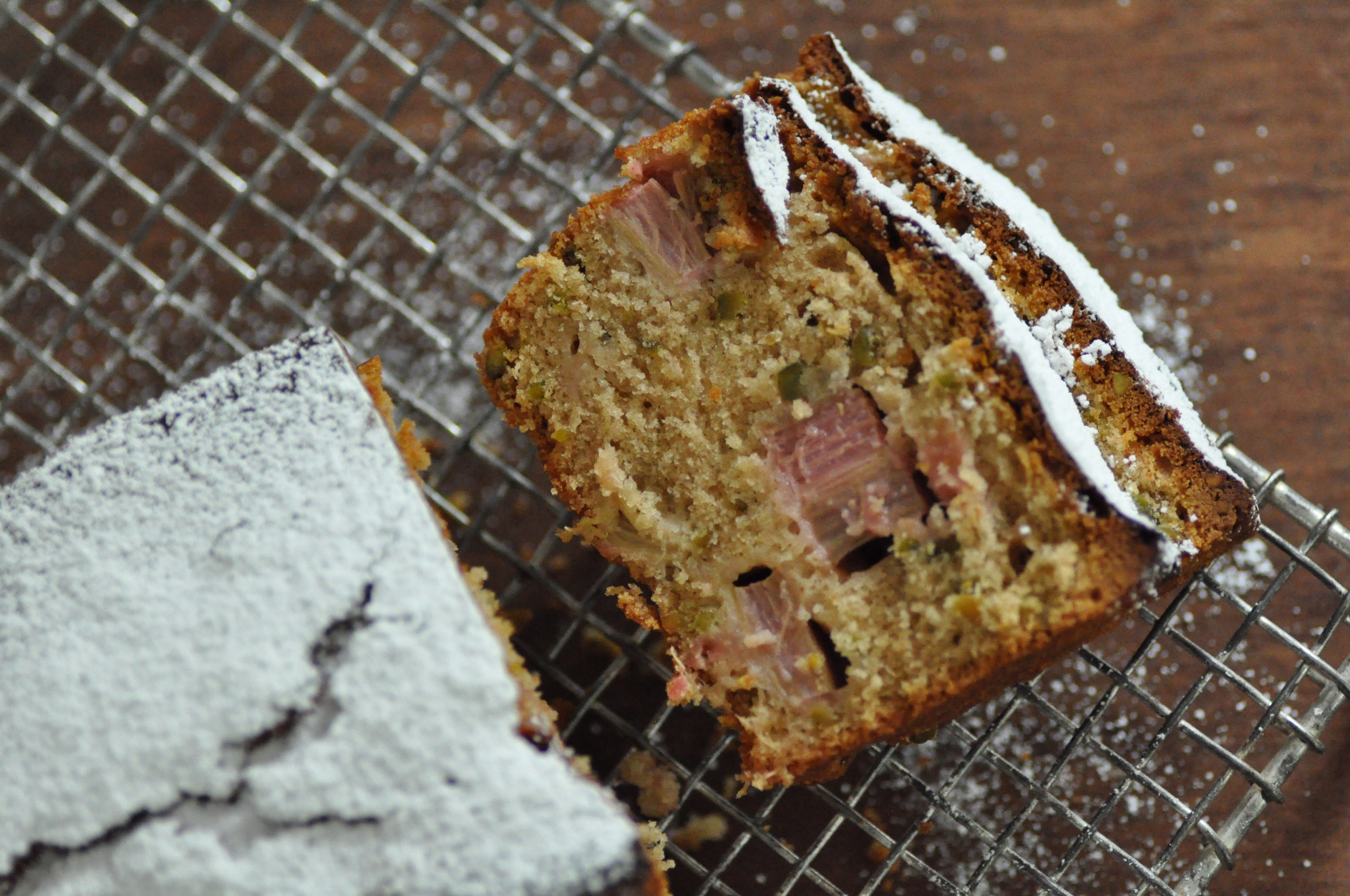 350 g red rhubarb
200 g flour
80 g butter, room temperature
75 g whole wheat flour
200 g sugar
1 tbsp baking soda
salt
1 tsp cinnamon
1 egg
100 g cream
100 ml milk
50 g pistachios
icing sugar
preheat the oven to 200°C. wash and clean the rhubarb and cut it in 2 cm pieces. combine the rhubarb with 2 tbsp flour. pour the remaining flour, whole wheat flour, sugar, baking soda, salt and cinnamon and mix all those ingredients.
melt the butter and combine with the egg, cream and milk and stir in the flour mixture. finally mix in the rhubarb and pistachios. fill the dough in a buttered cake tin and bake it on the lowest level of your oven for 85 minutes. cover with some aluminum foil if necessary.
allow to cool down a bit and decorate with icing sugar.
enjoy!
********************
350 g roten rhabarber
200 g mehl
80 g butter, zimmertemperatur
75 g vollkornmehl
200 g zucker
1 el backpulver
salz
1 tl zimt
1 ei
100 g sahne
100 ml milch
50 g pistazien
puderzucker
den ofen auf 200°C vorheizen. den rhabarber waschen, putzen und in 2 cm stücke schneiden. die rhabarberstücken mit 2 el mehl vermischen. das übrige mehl, vollkornmehl, zucker, backpulver, salz und zimt miteinander vermischen.
butter schmelzen und mit ei, sahne und milch verrühren und mit der mehlmischung vermengen. zum schluss den rhabarber und die pistazien unterrühren. den teig in eine gebutterte kuchenform geben und auf der untersten schiene des ofens 85 minuten backen. wenn nötig mit aluminiumfolie bedecken, damit der kuchen nicht verbrennt.
auskühlen lassen, vorsichtig stürzen und mit puderzucker bestreuen.
viel vergnügen!