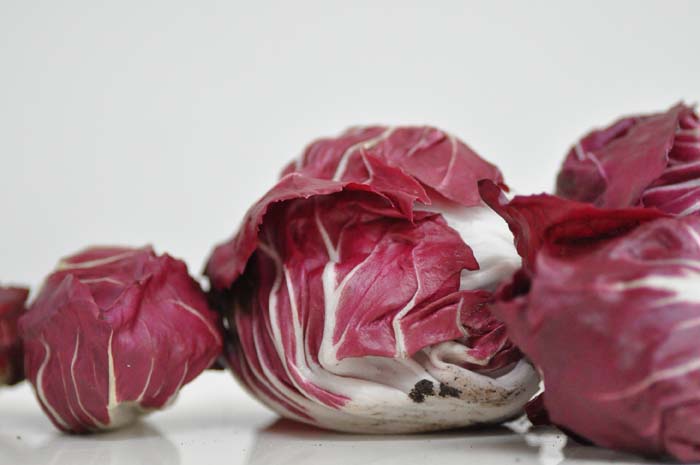 right before this siberian cold swept across our region, i harvested these radicchios. to tell the truth, i thought that they were already dead. but i had some time and decided to do a bit of garden work and cleaned the beds. we had more radicchio this year than we could eat, so there was still a lot of it. shriveled, rotten and brown. i thought i had no choice but to throw everything away. but then i discovered that there was still something red and crunchy hidden under two, three layers of frostbitten leaves.i started to flake off all the small radicchio. most of them are really small because we sowed them out to late in summer, but there have been many of them.
i think it was august, when we sowed radicchio. this year i will start a bit earlier in july. if everything works fine you will get radicchio heads big as a fist. sow them out in rows and start to thin out when small plants of two centimeter size showed up. you can add this young radicchio to other lettuce leaves and will get a nice mixed salad. continue over time until your radicchio plants will reach a distance of 25-30 cm between each.
usually they are very easy to care for. no pests and illnesses so far. that's what a gardener likes and so you can enjoy your radicchio in salads or even cooked. and as you see, they are really robust, so you can harvest till winter. and so i am happy to share the radicchio on garden bloggers harvest day blog event.