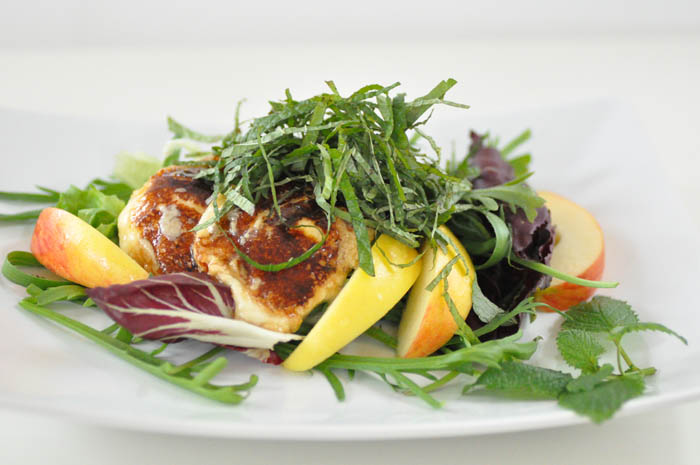 this is exactly what an autumnal salad should be! a combination of chilled crunchy apples, soft grilled halloumi cheese, the unique aroma of the lemon balm, sweet and sour and last but not least the feeling of eating something very healthy to avoid a cold.
and as long as there are fresh things growing outside we should eat them. every time looking for the garden after a cold night i am tensed up if temperatures just have been so low that the more delicate plants like lettuces and herbs have not survived.
but until now we still have some lettuces and for example lots of lemon balm. the whole summer i really had no idea what to do with all this lemon balm, which seeded it-self out everywhere.
yesterday i finally had some inspiration from here and from the rose elliot book "veggie chic" i combined parts of both and added something new and, voila, can proudly present you the autumnal salad with glazed halloumi cheese, apple and lemon balm. so if you try and like the salad, please let me know, to encourage myself to test out more my own combination.
for two you need:
2 hands full lettuce leaves
1 apple
200 g halloumi cheese
2 tbsp lemon juice
1 tbsp honey
1 large hand full lemon balm leaves
mix the lemon juice and honey until well combined. if your honey is too sticky just warm it up a bit and combine with the lemon juice. cut the halloumi in pieces and pour both in a freezer bag to marinated the cheese for at least one hour.
wash the lettuce leaves and lemon balm. drain and cut the lemon balm into thin stripes. wash and quarter the apple, remove the apple core and cut into thin wedges. remove the halloumi cheese from the marinade and add the apples instead. the lemon juice will avoid discoloration of the apples.
divide the lettuce leaves on two plates. pour the apple wedges on top.
heat a large frying pan and grill the halloumi cheese from both sides until golden. now add the marinade and let it reduce about to the halve. baste the cheese with the marinade until glazed completely.
set the glazed halloumi cheese on top of the lettuce and apple and decorate with lots of lemon balm.
enjoy!