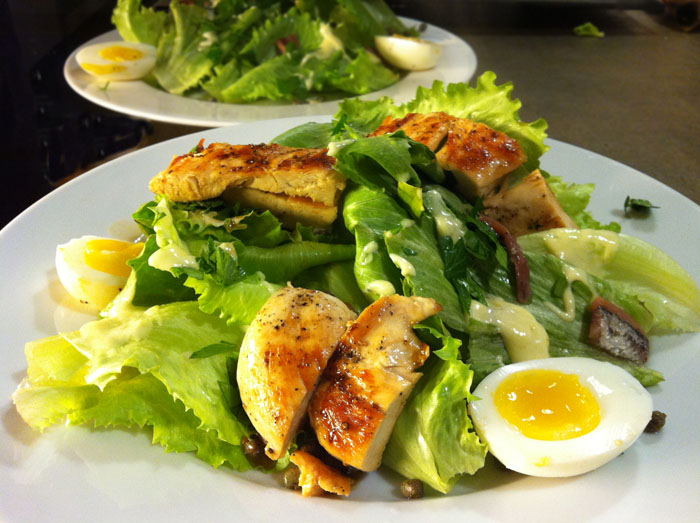 this is a combination of two salads i really like. the idea arose from the last iceberg lettuce of the season and a recipe from the dish magazin. we did't have all the ingredients at home so we started to invent something new on the basis of this inspiration. we combined iceberg lettuce and roasted chicken breast of caesar salad with the more mediterranean taste of anchovy, black olives and in salt pickled capers of nizza salad.
and if you now say, oh iceberg lettuce is such a tasteless thing just to fill up salads for crowds pleasure, you really have to try a homegrown one. surprisingly iceberg lettuce can be delicious.
2 chicken breasts
white wine vinegar
mayonnaise
2 soft boiled eggs
1 iceberg lettuce
2 tbs salted capers
6 anchovies
1 small hand full black olives
1 small hand full flat leaf-parsley
season the chicken breasts with salt and pepper. heat a little bit of olive oil in a pan and cook the chicken breasts from both sides. When they are done, remove from the pan and set aside. Add the white wine vinegar and reduce until it becomes a thick syrup and return the chicken. Set aside and let cool in the syrup. Finally slice thinly.
Cut the iceberg lettuce into thin wedges and arrange on the plates. Arrange the chicken and syrup, the halved eggs, capers, anchovies, olives and parsely leaves and drizzle everything with mayonnaise.