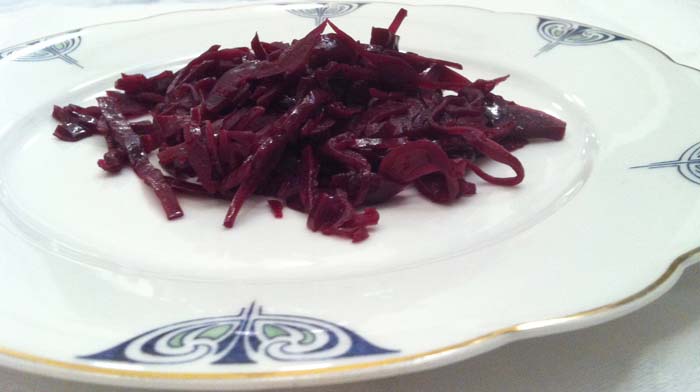 red cabbage is one of the typical winter vegetables, as it is relatively frost-resistantant and storable. typically, we have it for christmas dinner or st. martins day, which has been some days ago. around st. martins day we always invite some of our friends to join us for the traditional martins-goose, potato-dumplins and red cabbage. meanwhile, i guess, we can call it a tradition. when we started this tradition some years ago i asked my mom how to cook a red cabbage like her´s, because it is the best i can ever imagine. as it always is with mom´s recipes, they are never written down and never concrete. so i asked her to invent amounts and the following recipe is what she told me. and what can i say, it is almost better than her´s.
this recipe is for six, but we usually make the double. if you want to cook red cabbage for many people i suggest to prepare it one or two days before, so you will have enough time for the goose or what ever you will serve with the red cabbage. once your guests have arrived, you only have to warm it up and i think it becomes better with each warming.
1kg red cabbage
100ml red wine vinegar
1 onion, diced
2tsp salt
1 apple, peeled and grated
2tbsp butter
200ml red wine
125ml vegetable stock
2tbsp sugar
5tbsp cranberry jam
1/2 cinnamon stick
2 cloves
1 bay leaf
pepper
you have to cut the cabbage. if you are not a lucky owner of a kitchen machine you have to cut it by hand. therefore you have to quarter the cabbage and to cut off the stem. now you can start to cut your cabbage quarters into very thin strips. you will need patience but you will be compensated. once you have finished, mix the cabbage with the salt and the red wine vinegar, cover it and let it marinade for 2 hours.
after 2 hours you can start to cook your cabbage. therefore sauté lightly the onion and the apple in butter. add the cabbage and deglaze with the wine and the stock. finally you can add sugar, cranberry jam, cinnamon, cloves, bay leaf and pepper. simmer for about 30 minutes. the cabbage should still be a little bit crunchy.