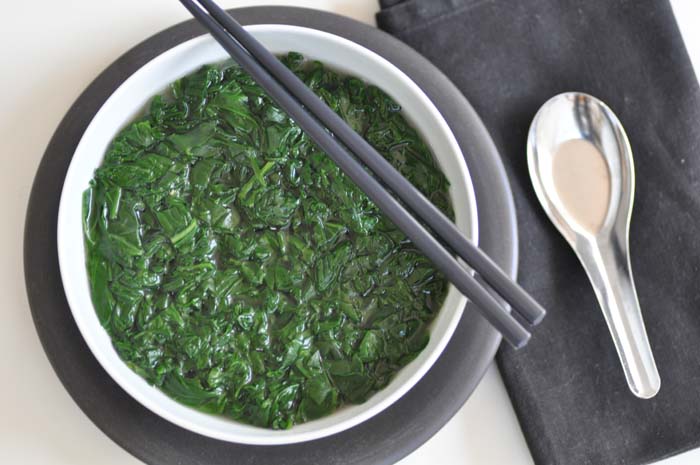 i love asian soups! in most of the cases they are so simple to prepare and they are much more delicate and aromatic as most other countries' cuisins soups are. and to cook this soup you (almost) not even need any special ingredients which would stay on your kitchen board for the next 10 years without any use.
soup with noodles and spinach indicates almost everything the soup contains. the absolutely main act of this dish is the spinach and you should use fresh spinach if possible.
this recipe is out of harumi kuhiharas "harumi´s japanese cooking" which is introducing you to the japanese cuisine beyond sushi. i really love this book. all the recipes are manageable even if you are not an expert in asian cooking yet. and this soup is a good start into harumis japanese cuisine.
30 g rice noodles
300 g fresh spinach
1 tbsp instant chicken broth
1 tbsp sake
salt pepper
soy sauce
1 tbsp sesame oil
chili oil
cook the rice noodles following the instruction on their package. strain off and chop a bit with the help of kitchen scissors.
wash the spinach and sauté until wilted. rinse with very cold water to preserve the spinachs' nice green color. drain and cut roughly in stripes.
bring 800 ml water to a boil. add the instant broth and sake.
when you are ready to serve, put noodles in every serving bowl, place spinach on top and pour on the broth. season to taste with soy sauce and sesame oil. add some chili oil if you like.
this recipe is originally for four. but it is so tasty and light, that we eat it à deux.
enjoy! itadakimasu!