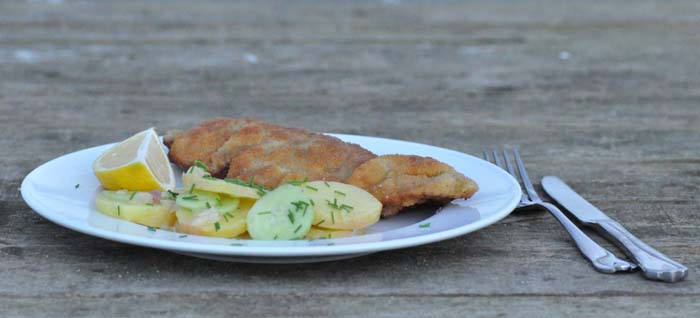 since i had an excellent potato salad in vienna i am looking for the perfect austrian style potato salad. i tried many many different recipes but until today i didn't find the right one. so if you have one recipe that fits to viennes schnitzel, please let me know!
this time i tested the potato salad of johann lafers heimatkueche. so it is a styrian recipe. it is very good but not the style you will find in vienna. it is with bacon, cucumber and pumpkin seed oil.
an austrian potato salad can only succeed if you have the right potatoes. you need "speckige" potatoes which are a very very waxy type of potatoes. the more floury they are, the more your potato slices will break apart while combining the ingredients and they have quite a different taste as well. i don´t know if you can buy these kind of "waxy" potatoes outside of austria. i never found them and so i am happy to receive a sack of "speckige" seed potatoes from austria every year and that we had a great potato harvest also this year.
this recipe is for 4 people and, even tough it is not the "classic" one, i liked it  with the viennese schnitzel.
potato salad:
1 kg potatoes
1 cucumber
1 onion
100 g bacon
1 tbsp butter
80 ml white wine vinegar
200 ml bouillon
1 tbsp mustard
8 tbsp sunflower oil
salt
pepper
pumpkin seeds oil
chive
viennese schnitzel:
4 veal escalopes
2 eggs
50 g flour
150 g breadcrumbs
pepper
150 g clarified butter
2 lemons
cook the potatoes in a large pan with salted water until soft. let them cool down a little bit, peel them and cut them into thin slices. wash and peel the cucumber, slice thinly and put together with the potatoes into a large bowl.
to make the dressing, cube the onion and the bacon. sauté both in the butter until soft and starting to become golden. add the vinegar and the bouillon and let it simmer a few minutes and allow it to boil down a bit. finally add the mustard and the sunflower oil and combine the dressing with the potatoes and the cucumber. let it rest for at least half an hour. season to taste. serve with chive and a little bit of the pumpkin seeds oil.
to prepare the viennese schnitzel, you have to tenderize the escalopes. they should be very thin afterwards. salt and pepper them and put every side in the flour. then put them in the whisked eggs and make sure that the entire surface is covered with egg. finally, turn the floured escalopes carefully in the breadcrumbs.
to fry them, you have to pre-heat the clarified butter in a large frying pan. it has to be really hot to get nicely golden escalopes. add the escalopes and fry from both sides. try to turn them as less as possible to avoid destroying their coating.
serve with a quarter lemon and the potato salad. and to get the real viennese style try some cranberry jam to your schnitzel! a glass of beer or chilled white wine accompanies this dish perfectly.